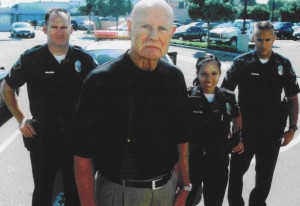 We have already documented dime store psychologist Pat McKinley's pompous blather about how it was necessary to use nunchucks on pro-life protesters because of their super-human resistance to pain.
And for McKinley, pain is the name of the game. When you want to try out a new toy from your chamber of horrors, well, hell, you're going to need justification. So why not cook up some psychological mumbo-jumbo?
Someone with a little bit of real psychological training might suspect that Pat McKinley has an unhealthy obsession with the application of pain. Judging by the actions of cops he hand-picked to patrol the streets of downtown Fullerton, I think it's fair to say that sometime between 1993 and 2009 the problem spread like contagion in McKinley's police department. Was it his game plan, or was he just not paying attention. The signals he was sending his boys was clear enough.
We have seen the videos and read the accounts. Then there's this: