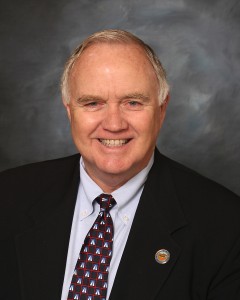 The election to fill the vacancy caused by 3rd District Supervisor Bill Campbell's 2012 departure is starting to shape up as a slugfest between Todd Spitzer and Chuck Devore.
An interesting choice, but one that may cause some to wonder if a better choice isn't available to succeed Campbell. The departure of latter, who has been just about as liberal, big government a RINO as is humanly possible, presents an opportunity for some real small government conservatism.
Enter Todd Spitzer. Fired by the DA last August for, well forget what for, it hardly matters anymore, Spitzer brings a huge campaign bank and an equally monstrous Board of Supervisors legacy as one of the green lighters of the disastrous retroactive [email protected] that has saddled the County with a huge unfunded pension liability. When he was on the Board, Spitzer developed a well-earned reputation as a megalomanaic media hound and shameless self promoter. He's backed every measure designed to separate the police from accountability for what they do. The unions, particularly the cops, just love Todd to death. He's one of theirs.
Then there's Chuck Devore, the former assemblyman, whose earnestness and willingness to engage his constituents is commendable; he's also been pretty good on fiscal issues although apart from budget time he wasn't able to do much in Sacto. Devore also believes that permitting gays to get married will open the floodgates of Gomorrah as the degenerates seek to marry their pets and potted plants. Also Chuck's neo-con blather is pretty typical of the misdirection of American foreign policy. Fortunately as a supervisor the last two points are virtually irrelevant.
How would Devore do as one of the overseers of the vast County welfare machine? Hard to say. He has zero experience on a five person executive board where politicking happens every day and where the shifting sands of alliances make things a little uncertain over a four-year term. Spitzer has been there and done that. He's a known quantity. And that may be his biggest problem.
The really fun part about this potential match-up is the way the repuglicans will break. One wing of OC repuglicanism, the Schroeder-Rackauckas-Mike Carona crowd will back anybody but Spitzer and will do it loudly and financially. Others will no doubt follow Spitzer – like Supervisor Pat Bates and the unspeakable Janet Nguyen have already appeared to do. And Spitzer has signed up 'pug lobbyist John Lewis to work his camapign – and that speaks volumes right there. How will the Campbell/Pringle club go? I don't know. But the Third District has been their little playpen, and Spitzer has ruined their plans to hoist and foist the mannequin Carolyn Cavecche.
The possibility of two well-supported republicans may suck in a Dem from Irvine or Anaheim to take a shot at the brass ring and maybe even take the top spot in a primary. And then there's the clown-like Will-o'-the-Wisp, Harry Sidhu, who may just try another ego trip even though he has zero chance of ever being elected anything again, even in a district in which he actually lives.
Then there's the fact of decennial redistricting. Some lines are bound to redrawn, but which ones? Will it matter?
Stay tuned and enjoy the fireworks!