The Personality of Misplaced Self Worth
After several posts detailing the falsehoods and comically bizarre statements made by former Fullerton Police Department chief Pat McKinley, FFFF decided once again to call upon the good offices of Dr. Reinhold Ott, of the Institut fur Psychologie at the University of Tubingen. It appears to us that Mr. McKinley is desperately in need of professional help. And of course, we're always here to help.
So, let's hear from Dr. Ott.
I have reviewed the information you have provided me on the subject of your former police chief and city councillor, Mr. Pat McKinley, including the invaluable videos. I can say that the latter were particularly useful in developing a personality profile on this individual. While necessarily speculative without further in-depth analysis, I can assert that the available evidence leads me to some fairly confident conclusions.
Narcissism is a condition of excessive self-centeredness that entails the inability to critically assess one's self and others from a rational perspective. When it attains a serious enough level it is manifested by an effective denial of reality, an inflated sense of entitlement,  and an almost complete lack of empathy for others. The narcissist sees himself as perfectly formed and thus he must ascribe blame to others for his own failures and shortcomings.
I believe this description fits Mr. McKinley quite well, as evidenced by his refusal to even offer a token apology for all the serious problems in your police force, a force that he appears pleased to have assembled.  I notice that lawless police officers that he hired and trained himself are deemed to be "aliens;" the concept of extra-terrestrials invading this man's police department sounds ludicrous to us, but not to him. Since the idea that poor decisions on his part is not conceivable to him, the only explanation must be supernatural. And please note how he casually dismisses the victims of sexual assault by one of his policemen – a criminal act – by degrading the target of the crime. Thus the victims of his police force (those ladies…, etc.) are characterized as somehow to blame for events that are seen to be things that "just happen."
In one interview I notice Mr. McKinley's use of the first person plural pronoun. "When we came to Fullerton." This is not merely casual misuse of language. It indicates the very real possibility of dual or perhaps even multiple personalities; at the least, the good cop/bad cop duality that is closely connected to the police psychology may here be in evidence. This possibility should not be dismissed lightly.
Furthermore, I must note a strong impulse to authoritarianism in our subject, the staunch defense of physical abuse of people who assert themselves at the expense of his authority, and, once again, a propensity to blame the targets of this impulse, such as the other worldly attributes he absurdly imputes to anti-abortion protesters.
People such as our subject are invariably drawn to the military, as well as crypto-militaristic organizations, and while they may be useful for limited tasks, such as full frontal battlefield assaults, crowd and traffic control, and the like, they must be constantly monitored by a competent civilian authority. The penchant to assert their control over others while evading responsibility for their own misdeeds can be disastrous. History is replete with this sort of megalomania with its attendant horrors: pogroms, wars, concentration camps, etc.
I should note that the narcissist may present himself in an attractive, even charming manner so long as he attains his desires. But in the face of resistance to his charm, and, more importantly, to his authority, the narcissist will likely drop any facade of congeniality and become belligerent; however the denial and dissimulation will persist.
The personality profile of Mr. McKinley cannot be considered complete without consideration of statements made by the subject for which he possesses no professional qualification, such as the nature of the head injuries suffered by Mr. Thomas; and by his attempt to psychoanalyze protesters and even criminals. Exercising what can only be deemed  incompetent opinion under the guise of informed knowledge is typical behavior.
For the true megalomaniac it is insufficient to be merely an armed minion in service to the state. He craves an authority outside his rather narrow vocational limits; an authority that he can claim personally. This explains the production of a self-published book in which he presses his years of experience into service for the good of his fellow man. It matters not that his advice in this oeuvre is good or bad (it is likely to be highly dangerous or lethal to follow any advice the narcissist may proffer); what matters is that our subject is an author!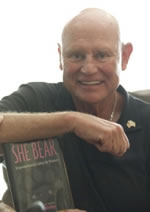 It is easy to smirk at the title and text of our subject's literary endeavor, but some compassion should be exercised: the "She Bear" is obviously indicative of serious unresolved maternal issues, and very likely a distant or abusive father.