The Fringies® Continue. Worst Vote 2011
Another popular Fringie® category, Worst Vote, once again had the Nominating Committee sifting through reams of material trying to separate the ridiculous from the sublimely ridiculous. The effort was herculean, and by herculean I mean mind-numbingly depressing. And so the Committee, exhausted and babbling, climbed into a dune buggy and drove off into the cold desert night with nothing but twelve bottles of Thunderbird® and soda crackers.
Anyway here's what they left behind.
1. In November
the Fullerton City Council
really distinguished itself,
buying 200 special raincoats
to keep their police force dry, even though the force only consists of 140 cops, only a few of which would ever be on duty in the rain. They spent $17,000 on that outlay, almost $90 per, but hey, sometime you've got to say that money is no object. The vote was 5-0.
2. In July the Fullerton School Board voted 4-1 to hire a huckster named Rudy Ruetigger to be their management retreat's motivation speaker at $2000, a real bargain. Maybe the bargain basement price was due to the fact that the SEC was nipping at Rudy's heels. None of the Trustees who supported this extravagance seems to have been the least bit curious about why six-figure salaries plus benefits wasn't ample motivation for Fullerton's educrat class.
3. In December the Three Hollow Logs on the Fullerton City Council elected one of their own, Pat McKinley, to be the back up face of Fullerton as Mayor Pro Tem. Well this is perfectly appropriate. McKinley, who makes $20,000 each and every month as a retired public employee is a poster child for runaway pension abuse in California; his insulting and ignorant comments about Kelly Thomas' injuries, and his jaw-droppingly embarrassing views on sexual battery perpetrated by his policeman make him a perfect symbol of an entrenched, sclerotic, gerontocracy.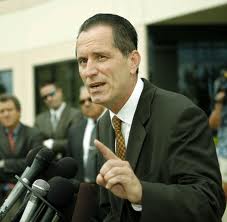 4. In August, as the pressure of world-wide scrutiny mounted, the City Council voted 4-1 to hire an outside contractor named Michael Gennaco to avoid doing needed to done: an immediate house cleaning. More wasted dough. An accompanying action was to create a task force on homeless issues, chaired by Rusty Kennedy, friend of cops throughout OC. The creation of this committee was the rudest diversion of all, suggesting that the real issue wasn't an out-of-control gang of thugs, pickpockets, perjurers, and killers roaming the streets of Fullerton in police uniforms.
5. Also in August the Three Hollow Logs needed to prove they still had potent f-up mojo and awarded a multi-million dollar subsidized housing project to the clients of the guy who would become the Recall defense team leader, Dick Ackerman. Ackerman's client St. Anton Partners who is slated to get millions of public money jumped all the way from eighth place into the driver's seat. The Age of Miracles is not over!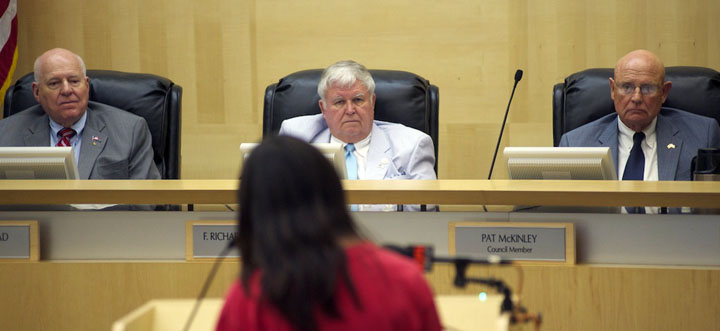 6. Back in March the Three Tree Stumps voted to try to hide Redevelopment assets from the State, because, let's face it, these so-called conservatives are hooked on government central planned boondoggles like a junkie is on black tar heroin.
7. The Fullerton School Board granted furlough days to their teachers instead of a comparatively small pay cut. Trustee and union jock strap Janny Meyer opined on face book, and we were there to share her illiterate boo-hooing.
8. Away back in April the City Council gave "acting" City Manager Joe Felz the permanent job without ever having engaged in a search. Three months later Felz would wilt like an old leaf of lettuce in the sun. Joe probably figured the job would be a breeze. After all his predecessors Chis Meyer and Jim Armstrong got away with murder (figuratively). His police force wasn't so lucky (literally).
Well, Friends, them there's some pretty bad votes. Feel free to share your opinion.