A while back we did a post on the shameful fearmongering that took place adjacent to an Islamic charity event in Yorba Linda. Our own paper tiger Ed Royce was on hand to help whip up the know-nothing rubes, as was the big mouth, pea-brained Deb Pauly who somehow got herself elected to the Villa Park City Council.
Pauly's remarks were particularly inflammatory and unapologetic, consistent with her later non-apology as she tried to weasel out of what she had said.  The consequence of her remarks was a big demonstration at the Villa Park City Hall in which her outraged opponents and her nutwing supporters showed up en masse to have at one another.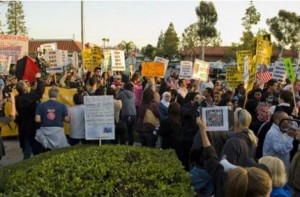 The OC Sheriff Department that is responsible for protecting the mean streets of Villa Park brought in the troops, order was miraculously maintained, and everybody went home feeling pretty good about themselves.
And the price tag on the OCSD bill to the City of Villa Park? A City Hall insider places the figure at $13,500. And given the potential for much greater physical and financial damage the well-heeled folks of VP may consider themselves lucky they got off so cheaply.
But my question is this: why not present the bill to Deb Pauly herself?