Dear Pat McKinley – An Open Letter To A Failed Leader
By Barry Levinson
So Pat McKinley, as the former 16 year Fullerton Police Chief who hired Ramos, Cicinelli, Wolfe, Hampton, Craig and Blatney, you have finally spoken out.  The man who disregarded public safety and the FPD's own requirements for hiring police officers, you say you are sickened about what has happened.
Not nearly as sickened as we the public are with you, sir.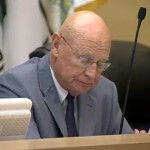 You say you cannot understand how the goons you hired could have gone so far astray from their police training.  Why not? They were all trained so well by you!  All police officers knew by your own past actions that the rules of the FPD did not have to be followed faithfully.  You hired an unfit one-eyed police officer named Jay Cicinelli, just because your friend at the Los Angeles Police Department (LAPD), Captain Hillman, recommended him.  This was after the LAPD officially stated that he was unfit for any police duty, period.
Really? You ignored FPD minimum standards for becoming a police officer and now we are supposed to believe you are just sickened and heartbroken to find out that some of your handpicked thugs have actually not followed proper Fullerton police procedure. What a shock that must be to you, sir!  When the you clearly demonstrated to your entire department that rules are made to be broken, what else can you expect?
You are surprised and shocked.  You expect anybody to believe that?
Now you proclaim to the press that you really wanted to speak out before but the city attorney advised against it.  What were you afraid of?  What were you hiding from?
Council members Whitaker and Quirk-Silva spoke out early and often.   It seems that at the same time you, the former big brave police chief was cowering behind the city council dais, a petite female council member and a newly elected council member had the guts and integrity to let their voices be heard.
On CNN August 10th, Mr. McKinley, you responded to a direct question (after a 3 or 4 second pause) that  you had not seen the city video.  A few minutes later you stated the following:
"I am going to guess now that there are only two that are deeply involved and the investigation will show that 4 will have no culpability."
The combination of the pause before you answered that very simple yes or no question, plus the fact that only someone who saw that video could come to the conclusion of how many officers would probably be charged, leads me to seriously doubt your denial of seeing that video.  It simply does not add up.  Common sense and logic tells me that you have not been very forthcoming with the public.
And you still believe in your heart of hearts that you should not be recalled.  Are you kidding me?