Intoxicated Dude Smashes Into Ron Thomas' Car
In a rather bizarre incident yesterday afternoon a Fullerton resident named Robert Ghanadian suddenly careened his SUV into several parked cars along the south side of the 100 block of West Commonwealth. One of the cars belonged to Ron Thomas, father of FPD murder victim Kelly Thomas, who happened to be attending some sort of community meeting hosted by Sharon Quirk-Silva at Steamers Cafe.
Apparently the guy demonstrated signs of intoxication and failed a field sobriety test.
All sorts of cops showed up, supposedly to make sure that this wasn't some sort of deliberate attempt to harm Ron Thomas. O the solicitude! Ron seemed satisfied by this explanation of concern for his welfare, however at least one eye-witness says Ghanadian's vehicle sported some sort of police decal and appeared to come from the police department headquarters down the street.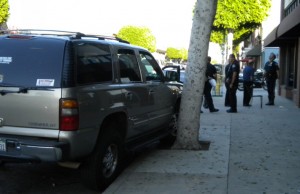 It certainly seems too coincidental to be characterized as sinister. I am in the process of getting some video from the scene, and I will try to shed some more light on this incident.