Addiction, Hovey and Consequences
Could the real reason that Fullerton School District superintendent Herr Doktor Mitch Hovey told his IT guy to deny FSD network access to our blog was because some of the district employees were addicted to our humble little blog and spending way too much of our (tax payers) dime/time blogging and not working?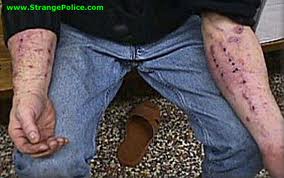 Well, that sure seems plausible. And it's true that we have been a lot less than enthusiastic about some of the goings on at District HQ, from the bogus laptop scam to the Board's congenital rubber stamping. Oh, and yeah, the Pam Keller Collaborative swindle. That probably stirred up some resentment among the rank and file.
Yet, instead of telling the employees to knock off the blogging  and getting back to work, it appears that the good doctor simply denied them access to our blog. And only our blog. I'm sure those same employees are still surfing the internet; it's sort of like an addiction, and as with most addicts when they give up one addiction they replace it with another.
So I have to wonder what we are being replaced with. Youtube, OC Weekly personal ads, Hulu?
And I also have to wonder who is next on the censorship hit parade.