Dan C and Art of Careful Reporting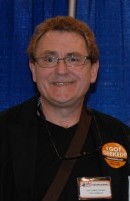 Quite recently Dan Chiemlewski of the deadly boring LiberalOC blog put up a post about censorship and civility or something. I noted this pearl from the self-righteous and sanctimonious Dan C., who styles himself a real reporter:
Comments on FFFF are a free for all and so is sock puppetry (thanks guys for that visit to my home by the Anaheim Police Department on the day of my son's graduation for a comment by a "Dan Chimichanga-Cub Reporter" who threatened to cut Harry Sidhu's brake lines.  I'm sure you found it hysterical),
Well, here's what the commenter actually said.
#9 by Dan Chimichanga, Cub Reporter on June 16, 2010