What's Happening to The Hetebrink House?
About 23 years ago, the Chancellor of FJC told me that the NOCCCD was interested in acquiring the magnificent Mission Revival Hetebrink House because the JC needed more parking and the property would make a great parking lot. Little did he know that I was the founder of Fullerton Heritage.  I was however, unable to convince him that the house was a significant structure and should not be torn down (especially with our tax dollars) for a parking lot.
The following week I introduced myself to the old-timer who lived on the property and who had been living there since he was 14 years old! His dad had built the house out of concrete bricks that were made on site. Oh, the stories John "Pete" Hetebrink told me about growing up in Fullerton were just amazing, I just wish I owned a video camera in those days.
Over the next several years Pete and I continued meeting and then one day I asked if he would like the house to be registered on the National Register of Historic Places to help save the house from the wrecking ball after he was gone. Heck, he was in his late 90's at the time. He told me that decision would require both his sisters Hyacinth and Dorthy's consent. So we arranged for a meeting at which time I had prepared an application for the National Register of Historic Buildings and Places. They were very exited that the house their dad had built and the house that they all grew up in was going to become a landmark. So we had a "signing party" and the rest is history.
Pete has since died, and the house has been passed on to other family members.
A friend of mine called me this morning and asked if I knew what was happening to the Hetebrink house, so I drove over there and this is what I saw.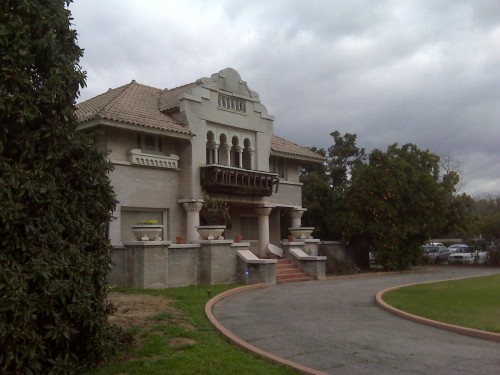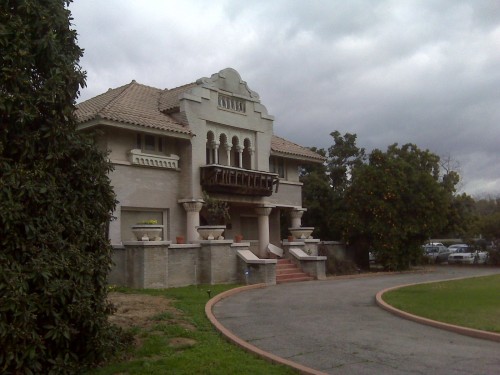 The property had some serious structural problems twenty years ago that were  unaddressed because the Hetebrinks didn't have the resources to make the repairs. Things have only gotten worse as indicated by the deteriorated balcony at the second floor loggia.
Hopefully the heirs of Pete Hetebrink can start addressing the deterioration of this great house.