'Tree City' Decapitates Trees
Todd Warden wrote in to tell us how the unsightly drainage ditch along Malvern/Chapman avenues is becoming further uglified by the city without regard for the surrounding neighborhood or the health of the landscaping.
He awoke one morning to find that the city had ordered the 30 foot tall trees hacked down to about 6 feet, while randomly selected shrubs were cut to the stump. The fully developed trees had been shielding motorists view of the ugly flood control channel and it's rusty chain link fence for years.
"In the past they have always just trimmed the trees back and kept the height leaving a swell green belt and noise buffer in contrast to other areas of the Malvern/Chapman eyesore," wrote Todd. The city told him that they had no money to replant new trees and shrubs, but the mature trees were taken out anyway.
I'm no arborist, but hacking a 30ft tree by 80% seems like a great way to kill it. If the city doesn't have the funds to replace prominent landscaping features, they ought to just leave them alone or trim them as reasonably necessary. Together, Malvern and Chapman form one of Fullerton's main east/west arteries, and it's a disgrace for our city to destroy what little aesthetics it has left.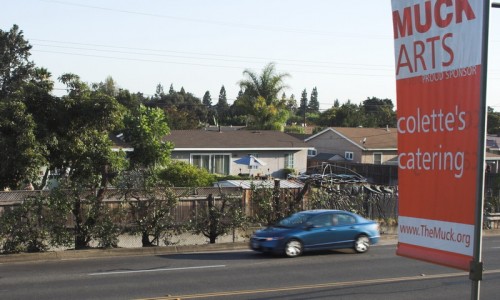 It's worth nothing that Fullerton frequently boasts about its 29-year title of "Tree City USA" as bestowed by the Arbor Day Foundation.
As for the future of the flood control channel, Todd has some ideas:
"What about replanting the entire strip of the canal that literally splits the entire city from Buena Park to Harbor Blvd. Tall palms or low water use flowering hedges would beautify the city for residents and visitors that use the artery. Another idea would be to cover the ditch for a bike path that would allow residents and visitors to reach downtown and the Buena Park Metrolink station."