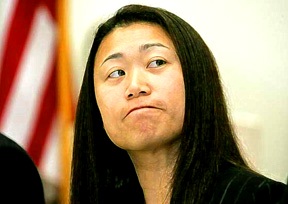 Okay, this isn't about Fullerton – not directly, anyway, but Janet Nguyen is indeed the Chair of the County Board of Supervisors. And we're in the County.
Our Fringe Friend Gustavo Arellano has passed along an invite to Ms. Nguyen's August fundraiser at the OC Weekly with the usual mordant commentary. Depending on the amount you give to her you will be classified:
WTF? You can be a "bamboo?" Or two? Then comes the "Empress" and "Emperor" sponsor level. Sweet Baby Emanicipator! Okay, the comestibles are some sort of Asian fusion blah-blah-blah, but this is America fer chrissakes!
How about a Mandarin level for a hundred bucks? Or a coolie grade for 50 dollars or less?