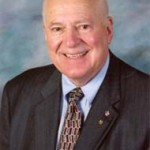 Here are a few things that happened in annum nineteen hundred and ninety-eight:
Hulk Hogan lost the WWF title to Andre the Giant
Florence Griffith Joyner set a world record in the 200 meter dash
Rick Astley's "Never Gonna Give You Up" hit the top 10
Mr. T launched his own television show
Eddie Murphy's "Coming to America" grossed $128 million
The Dodgers won the World Series
A gallon of gas cost 98 cents
And Don Bankhead began his 22-year career on the Fullerton City Council.
Twenty-two years is more than enough. It's time to give mayor Bankhead a break.