The Making of An Eyesore; And a Hell of a Climb, Too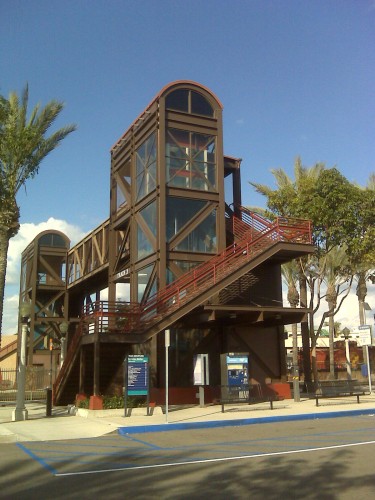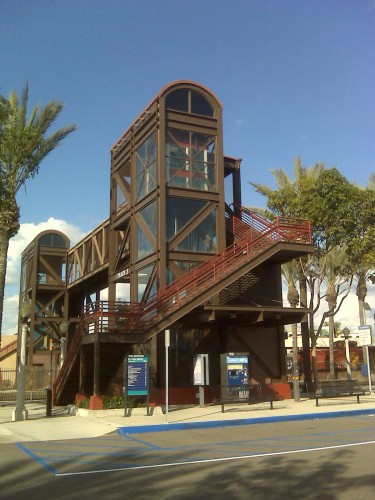 A little less than 20 years ago, some friends and I stood in front of the Fullerton City Council pleading with the Redevelopment Agency to build a pedestrian underpass at the train station instead of a steel bridge overpass. We had three reasons. The first was expense: an underpass was about half the cost of a bridge. Second was the matter of practicality and convenience: it is easier for a pedestrian to climb 24 steps versus 49; not to mention the cost of maintaining two elevators. Third, the bridge was going to tower over the Historic Santa Fe Depot – a real incongruous pairing and one in which the Depot suffered.
When the question was asked to the city staff during the public hearing about the possibilities of an underpass the Fullerton Redevelopment Manager Terry Galvin answered that an underpass would be too dangerous and could end up smelling like urine and besides, "nobody builds underpasses." He even dug up an incident (and only one!) where somebody got stabbed – in Raton, New Mexico. Ooooooh, so scary! The fact of the matter is that an underpass would have been a mere 50 feet long – a little more than half the distance from home plate to first base!
The staff also dismissed Vince Buck's brilliant idea of using the existing Harbor grade separation to get people from one side of the tracks to the other, a solution that would have been the most practical and cost efficient of all!
What has always bothered me about the city staff is that when they want something they will not give the city council all of the pertinant facts to make an intelligent decision; or they will deliberately inflate the project they want and diminish options they don't want. And then the city council does not hold anyone on staff accountable for the messes they create. And that my Friends, is the history of Redevelopment in Fullerton.
A couple years later I was at the Oceanside train station and guess what?
Of course lots of local Metrolink/Amtrak stations now have underpasses including Orange, Tustin, Laguna Niguel and many others. Money was saved, citizens were spared visual monstrosities, and maintenance costs were minimized.
But in Fullerton we have Molly McClanahan (who voted for the bridge), and her immortal words: hindsight is 20/20.
Almost twenty years later and the City of Fullerton doesn't even seem to bother with the graffiti etched into the elevator towers' glass.