We're not too sure how diligent the FPD is going to be in its investigation into the political sign theft ring that is operating out of Roland Chi's van. So, ever helpful, we thought we might be able to facilitate things up a bit with a little help from our Friends.
So let's roll back the curtain and take a peep at Perp #1. Remember this fine fellow, the one photgraphed stealing "No McKinley" signs at the intersection of Euclid and Rosecrans? Take a good look.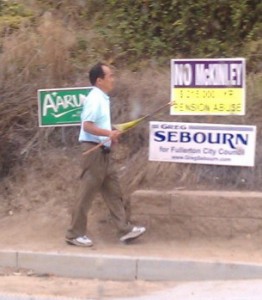 And now consider the image below, taken at the CRA endorsing event that was held a few weeks ago – the one where, Roland Chi stacked the meeting with a gaggle of newly minted CRA members, many of whom had to be told what to do and when to vote.
The handsome dude in the yellow shirt sure looks familiar. Could this indeed be the sign thief pictured above? Can't quite zoom in on that name tag. You decide.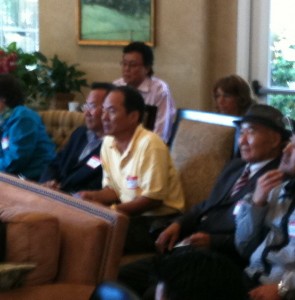 If you know, please share the identity of this individual. Your fellow Friends will be grateful. Hell, you may even get a Special Fringie Award come December!