That's Not Funny, Roland. That's Sick.
Anyone who's ever suffered from severe food poisoning understands how painful and dangerous it can be. It's typically twelve to eighteen hours of intense vomiting with excruciating pain that can only be relieved by a morphine drip at the E.R. The symptoms are so intense that food borne illness causes an estimated 5,000 deaths per year in the United States.
Last year Fullerton City Council candidate Roland Chi was charged with multiple misdemeanor health code violations when eleven people got sick (source) after allegedly eating food prepared at the Arirang Supermarket in Garden Grove. The DA wrote that Roland holds the position of Director for the troubled Korean market.
When county health inspectors showed up at the market to investigate the reported illnesses, they described conditions there as "filthy" and "contaminated". The violations they listed include no hot water for hand washing in the restrooms, unacceptable sanitation practices, raw beef and seafood sitting at room temperature, filthy utensils being washed too close to meat, raw beef being washed with a garden hose, and raw beef water splashing all over the kitchen. And that's only part of the first report, which also included these graphic photos:
The incident led to a meeting with the District Attorney and a few more health inspectors. The meeting minutes show that while interviewing with the DA, Roland Chi admitted to understanding all of the violations and promised that they would be corrected. Chi was warned with an exact date and time for another inspection one week later.
When the health inspectors arrived for the follow-up, they found major uncorrected violations and a few brand new ones. And so after promising the DA that he would clean up his act, the market failed inspection for a second time.
That second report described an employee cutting squid while raw seafood juices were splashing on the nearby sesame oil and spices, along with a bunch of meat and seafood sitting out at room temperature.
But it gets worse. Two weeks later the inspectors came back and found even more violations, listed in a third report.
Just in case you think we are exaggerating, here are some of the health inspector's own words:
Observed an employee scooping salt with a metal bowl (without handles) from the large pull-up container. The salt and the bowl were observed contaminated with a crusted build-up of meat blood. The sugar in the pull-up container was also observed contaminated with blood.
Observed a meat handling employee with a meat label in his mouth, then picking it up with his gloves and putting it on the meat packaging then resumes to meat serving/packaging process.
Observed an electrical fly catcher stored above uncovered rice bags in the produce department. Discontinue storing food beneath the fly catcher.
Observed an open sewer line between two walk-in coolers in the warehouse.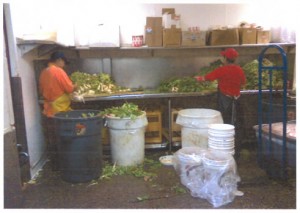 If you've been counting, that's three consecutive sets of violations, 11 sick customers and one smarmy owner. The DA decided to charge Roland and his business partner with five health code violations.
Six months later the DA dropped the charges against Roland, presumably in exchange for his business partner's guilty plea. Still, the damage to the victims had already been done. The DA's charges against Roland Chi for persistent neglect for the health and safety of his customers would be quite disturbing even if he wasn't running for city council. But since he is, we have to ask:  Should someone this irresponsible be elected to run our city?