So what do you do on Sunday afternoon after church and you don't give a damn about pro football?
I know! Let's go steal some campaign signs!
Let's hope this was not the message of Sunday's sermon!
An alert Friend snapped this image of a respectable-looking, necktied gentleman who was taking down "Bad Chi" signs on Euclid and Malvern. Here's what our Friend told us:
"This Chi supporter was removing Bad Chi signs Sunday afternoon.
Sent from my BlackBerry® smartphone with Nextel Direct Connect"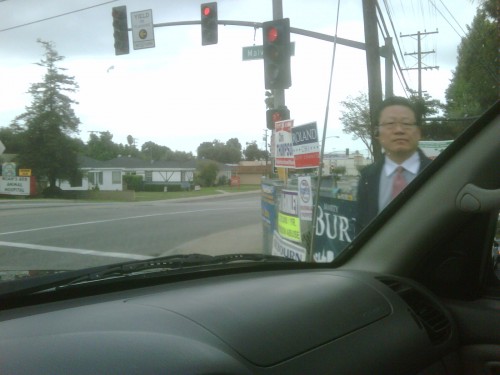 Yikes! White collar, solid shirt! That 80s look ain't workin' for ya, brotha'.
Can anybody identify this lawbreaker? We are now giving odds that this guy is not related to Roland Chi in some way. And the odds are starting at 100-1.