POST UPDATE FROM ADMIN: A DEMOCRAT FRIEND CALLED ME LAST NIGHT TO INFORM ME THAT SHE HAD RECEIVED A HIT MAILER (BELOW) ON SATURDAY. IT WAS THE SAME MAIL PIECE THAT HIDE-N-SEEK SIDHU HIT LORRI WITH BACK IN 2004. LOOKS LIKE HARRY'S FIGHTING WITH PRECIOUS FOR 2ND PLACE.  WHAT'S NEXT, SIDHU HITS FAHER, ROSIE OR ART? WELL IF HE DOES, HE'D BETTER DO IT QUICK BECAUSE TODAY IS THE LAST DAY FOR MAIL.
At least he did in the 2004 campaign mailer a Friend forwarded to us. And we faithfully reproduce it below. The basis of Sidhu's assertions come straight from an Orange County Register article by Marla Jo Fisher from 1995.
As you know we don't have a lot of respect for old Hide and Seek, but hell, when you're right, you're right.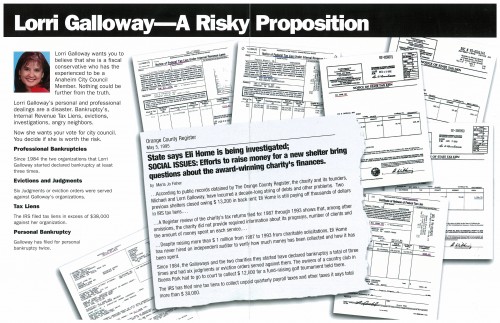 Ye gods! A history of multiple bankruptcies, tax liens, evictions and judgments, unaudited books. And she wants to  be in charge of the County budget? Yikes!
Perhaps the most telling behavior described in the Fisher article is the creation of a new "charity" on the day before the previous one declared bankruptcy. Well, like the dopers say – ya gotta keep the buzz going.
Maybe the cute little teenager routine really works at dodging accountability for dubious behavior. But will it get her elected County Supervisor as a carpetbagger?
The Galloway clan seems to be doing alright. Who knew the hopscotching "charity" business payed so well?