Roland Chi Supported Convicted Sheriff Mike Corona
California Fair Political Practices Commission reports show that Fullerton City Council candidate Roland Chi contributed $1,000.00 to the Friends of Mike Carona during the first quarter of 2006.  Carona was barely re-elected to a third term in June of that year.
Read it here: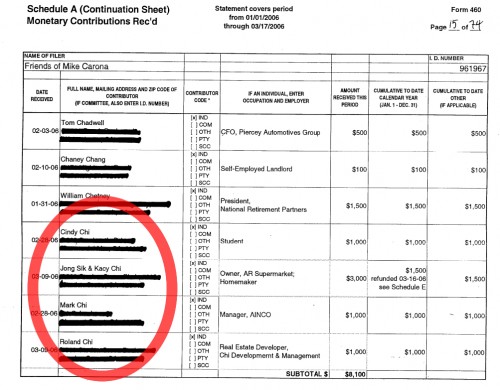 Yes, it's a big list of contributors, but you won't find the name of Bruce Whitaker on it.
How about a big round of applause for Roland Chi, recently of Garden Grove, for helping now convicted felon Mike Carona to squeak by with 50.9% of the vote, enough for Carona to avoid a runoff in November of that year.  Carona was indicted while in office the next year, exposing the OCSD to needless upheaval and Orange County to national ridicule.
What does this contribution say about Mr. Chi's ability to judge character?  Do we want someone willing to fall in to line with Mike Carona on the Fullerton City Council?