Oscar Wilde once described an English fox hunt thus:  the unspeakable in pursuit of the inedible.
While you ponder that pithiness, consider the firing the other day of junior grade deputy DA Todd Spitzer by his boss, District Attorney Tony Rackaukas. The Register reports, here.
Supposedly Spitzer was trying to get some info out of the bad toupe wearing Public Admintrator/Guardian, John Williams. The latter thought it was improper, ratted out Spitzer to Rackuakas, who for the first time in his career actually punished a politician.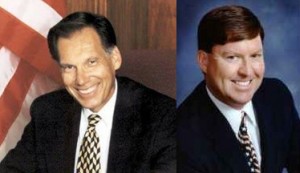 A politician? Yes. For Spitzer is a former County Supervisor, Assemblyman, and had put his DA-seeking career on hold, waiting for T-Rack to end his miserable legal misrule. And Spitzer has $1,000,000 in the bank.
Anyhoo, the plot thickens when we contemplate DA spokeswoman Susan Kang Schroeder, wife of OC political impresario Michael Schroeder, the guy who brought us Mike Carona. Ms. K-S has been rumored to be a challenger to Spitzer of the DA heir apparent title.
Just writing all this crap has made me exhausted and in need of a cleansing shower.
Ta ta, for now…
Say what?