Hide and Seek Harry On The Move Again. Claims New Address
Not to be outdone by fellow 4th District Supervisor campaign carpetbagger and multiple address occupier Lorri Galloway, Harry Sidhu has pulled up stakes again and abandoned his address at the beautiful Calabria Apartments, #106. The Registrar of Voters verbally confirmed the switcheroo this morning.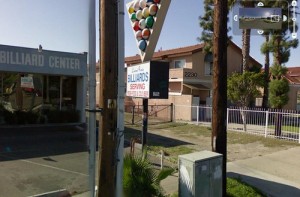 Was it the proximity to the bowling alley or the pool hall? Was it the complete lack of landscaping? Or was it just the sheer impossibility as the residence for a rich man like Sidhu, whose carpetbagging was getting a lot of attention anyway. It sure was a great image and just the sort of thing to burst a political bubble.
Some of Harry's campaign blog monkeys have been hinting recently that Harry was now living in a house he owns in the 4th District – a lot more plausible than the Calabria, to be sure, but in no way mitigating the fact that  HARRY SIDHU IS A CARPETBAGGER! Whether or not Harry will even pretend to live in his new home for the next four months is an excellent question, the answer to which we will no doubt be pursuing diligently.
Ah, well. Thus endeth Harry's flirtation with the common man. Wonder if he ever even got to meet his neighbors.