Amazing Grace And the Amazing Sinking Chi.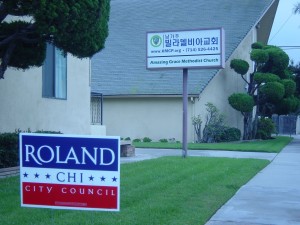 As I was motoring down Highland Avenue the other day, I spied this sight in the 200 N. block.
Uh, oh! A church proudly displaying a Roland Chi sign. Somebody needs to inform this operation that the IRS doesn't allow non-profits to promote political candidates, and not only that, but it really looks bad when churches do it.
Of course the idea of using a non-profit to promote his political ambition is nothing new for Roland Chi, it's pretty risky for a church to jeopardize its standing with the IRS. What's next for "Amazing Grace Methodist Church?" Can anybody say "property taxes?"