Like Father, Like Son? Sign Thief May Already Be on Probation… for Food Poisoning!
There's an old adage that goes: the apple never falls far from the tree.
Remember when we traced the "No McKinley" sign thief's white van back to Roland Chi's supermarket in Garden Grove?
Well, multiple sources have identified the photo below of the Fullerton sign thief as a close family friend of Roland Chi; very close, in fact. These people have identified the miscreant as Roland Chi's own father, Jong Sik Chi, who is also the co-owner of Roland's filthy Garden Grove market.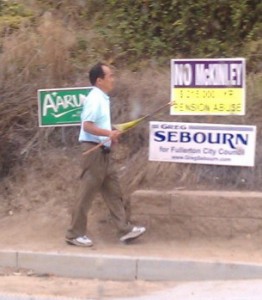 Well, that would explain an awful lot. Like the use of the family vehicle to commit another crime. Could it really be true?
If so, Chi senior may have wandered out onto thin legal ice.
See, according to the court documents linked below, the Elder Mr. Chi can hardly afford to be breaking the law. Senior Chi is still on probation for the 2009 AR Supermarket food poisoning incident, and the first condition of his plea agreement specifically commands him to Violate no law(s), or else.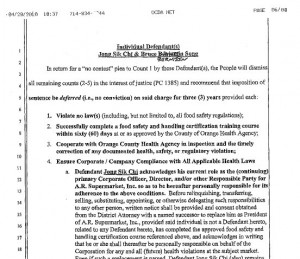 Read the plea agreement
Presumably that would include petty theft and vandalism. In fact, according to an amateur translation of this court document, violating the terms of his probation could put him back on the hook for 2.5 years in prison!
Roland Chi's entire campaign operation seems to built upon chronic and congenital dishonesty, disregard for the law, and criminal activity. There seems to be no connection between the Roland Chi Family and anybody's standard of ethics.
You just couldn't make this stuff up if you tried.