12 Years Was More Than Enough. The "F" Is For Fail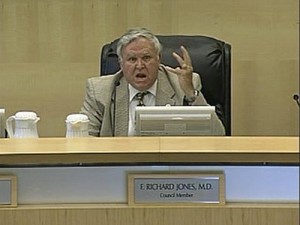 And now, a year and a half after Fullerton Councilman Dick Jones was re-elected to a fourth dreadful term it only gets worse.
During the fall of 2008 FFFF shared Joneses' mastery of the rude, ignorant, nutsy outburst. We even got creative. Last year we chronicled Jones' comical misunderstanding of Redevelopment, as well as his crazy melt down at a Vector Control meeting. And just last week we related the story of Jones standing up during a meeting, walking out, and quitting the Vector Control Board.
Even if we give him the benefit of the doubt on the female cop derriere incident, I wonder how long the people who have propped up this asinine buffoon can continue to look the other way.
Well, enough is enough, already. This guy has spent 14 years making himself a laughingstock, and it seems he won't be satisfied until he does the same thing for Fullerton.