In military air forces they have what's known as the Missing Man Formation – an aerial salute to reflect the loss of one of their members.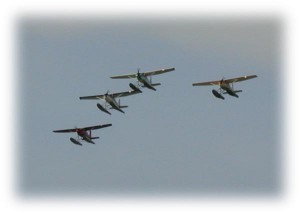 The Fullerton redevelopment Agency now has it's own Missing Man, Shawn Nelson, who has had to recuse himself many times because of a financial interest in a downtown bar.  Now, it seems, his financial stake in the building that the bar is located in, is preventing him from participating in any Redevelopment activity at all. At least that's the appearance. He recused himself at last night's meeting twice. The second time was on the disastrous Richman housing project in which a critical voice of reason was much needed.
Well, enough is enough. It's clear that Nelson has placed his own interests ahead of the citizens of Fullerton. It's time Shawn formally resigned from the Redevelopment Agency Board and let the City Council appoint a replacement who can actively particiapte in all of the Agency's business.