County Counsel Fires Shot Across Fair Board Bow; Will Ackerman Get Hit?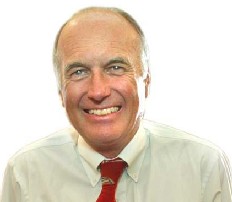 We've been tracking the Sell the Fair (To Us) Movement recently and noted that Dick Ackerman had already admitted to being hired by an insider Board cabal whose intent was to get the State to sell the Fair – to themselves.
A couple days ago word leaked out that the County had gotten into the act, possibly to forestall the sale of the Fair, and to own it themselves.
Attached is a copy of letter sent by the County's top lawyer, Nick Chrisos, to the local Attorney General representative. You'll notice that Chrisos spends no time fingering the Board and it's lobbyist, Dick Ackerman. Chrisos wants the AGs office to open an investigation. Why? Because by the time the Board got around to hiring Ackerman's law firm on July 29th 2009, to help pull and persuade the RFP, they had already hired them to create their non-profit "Foundation," with the intent of buying the fair themselves. Apart from the evident open meeting and conflicts of interest, Chrisos wants to know about what public expenditures were made by the Fair Board to hire lawyers to work for the benefit of their own foundation.
POST UPDATE: Click here to download the Chrisos letter.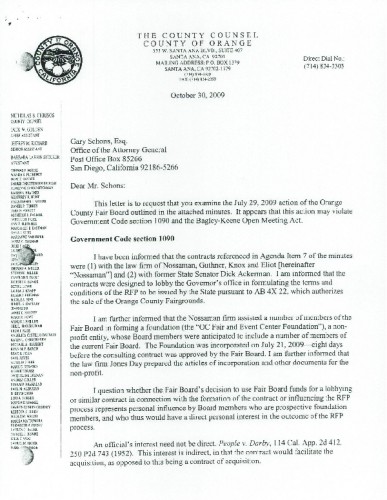 As they say: hilarity ensued. We've been told that the AG tossed the issue into the lap of the OC District Attorney. Why? Because the State AG represents the Fair Board! DA Tony Rackaukas has been signally dilatory in going after criminals who don't have gang tatoos so we will have to wait to see what, if anything happens.
In the meantime, here are the Fair Board minutes of the meeting in question: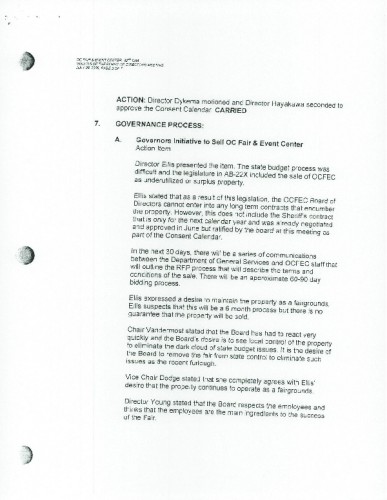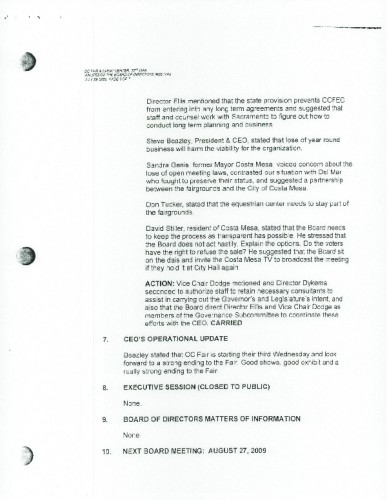 Check out the language of the motion: go hire "consultants" (Ackerman) to carry out the intent of the Governor and Legislation. What noble public servants! Let's not fight it. Let's work with the State!
But let's not forget the troublesome little problem that Dick Ackerman himself has admitted: being involved with developing the enabling language in the budget bill in the first place. Whose idea was that? And who paid him for that? Hmm.
It's very difficult to conceive of a scenario in which Ackerman is not involved in this little cabal right up to his eyeballs. Did he lobby the legislature first, and then the Governor's office regarding the specifics of the RFP? If he did he broke the law since he hadn't been out of the Legislature for a full year as State law requires. Ah, those pesky laws! Enforceable? Again that's up to the DA to determine. We are not encouraged.