Fullerton School District's Budget is Really Screwed Up
Let's keep this simple – today the Fullerton School Board is staring down the barrel of an unprecedented budget hole. To insulate themselves from the difficult decisions, the board is asking the "Budget Advisory Committee" to recommend a solution. This committee consists of unionized teachers, administrators and PTA parents.
At this point, the budget shortfall is at least $10,000,000. How will they bridge that 11% gap?
Of course we've seen plenty of threats to reduce special programs, administrative overhead and other gimmicks, but the elephant in the room is that 90% of the unrestricted funds go to employee pay and benefits.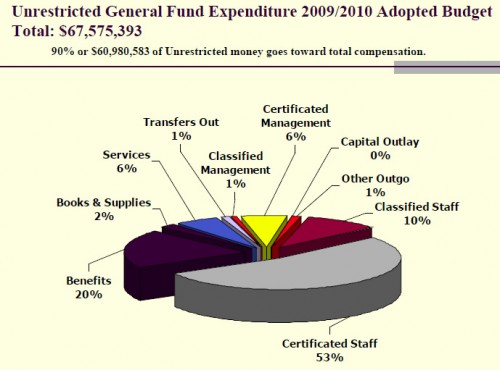 Mathematically there is no possible way to revive this beast without one or more of the following:
Increased classroom sizes (layoff teachers)
Reduced teacher salaries and benefits
New property taxes
We already know that the teachers union won't concede to meaningful salary or staff reductions unless confronted with the apocalypse. Taxpayers are severely financially strained in the middle of a massive recession, and are clearly ready to pitchfork any elected who suggests more taxes.
So what happens when an unstoppable force meets an immovable object?