Two Art Openings: Lost California and Lost Fullerton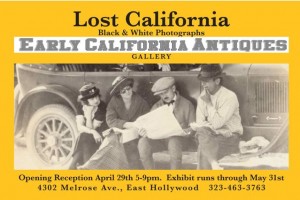 Because she's so terribly popular, The Divine MissK gets press releases like this one. Sometimes she has to rewrite them as well:

Eric Berg & Early California Antiques present
Lost California
Photography Exhibit
WHO: Eric Berg & California Antiques present "Lost California" rare Photography Exhibit.
April 29th, 2009, showing through to May 31st
WHAT: "Lost California" is a photography exhibit of rare and never before seen photos depicting the development of California from the orange groves and oil wells to Spanish revival and Monterey homes for which the city is famous. The exhibit includes personal photographers from the Marcel Picard estate. Picard, a noted director of photography of 1930's films such as Adventures of the Masked Phantom and Get that Venus is best known for working with Will Rogers. All photos are available for purchase and in price from $20.00 to $2,500.00.
WHEN: Opening reception – Wednesday, April 29th, 2009 5pm – 9pm

WHERE: Early California Antiques –
4032 Melrose Avenue Los Angeles, CA 90029
Cross street South side on Melrose, just east of Heliotrope.
Eric Berg is excited to showcase over 300 black and white, hand tinted and original photographs in a show that chronicles life in  California prior to World War Two. "Lost California" captures the majestic pacific coast  to the lofty airplane factories. This exhibit will give viewers an up-close and Picard's personal view of our history.
****************************
And just so you know that we're not complete snobs who hang out on Melrose and wear black while hobnobbing with reality TV stars, we're also pleased to tell you about something local.
How many others remember playing in homes decorated with Eames chairs, rice paper lamps and Knoll tables? Oh, please, The Divine MissK is now dating herself. She should stop before she tells you about Tang (the astronauts drank it, you know).
So here's the release:
"Forever Fullerton: Julius Shulman
Open to the public April 4-July 19
Julius Shulman is one of the best known architectural photographers in the world. In the 1950s and 1960s, he did extensive work in Fullerton documenting houses and other buildings in town." (Such an understatement!! Darlings!!! Why not drop the names A. Quincy Jones,  Eichler and Case Study homes into the mix? In fact, does anyone else remember the Case Study Home show at the old "Temporary Contemporary Museum" way back when? If you do, then ten points to Hogwarts).

"A Conversation with Julius Shulman" (You should go to this. Astronauts would, you know.)
"Saturday, May 9 at 2:00 p.m.


$12 general admission/$10 museum members" (Mention this blog, get no discount and two big strong escorts who will throw you out!)

"Julius Shulman will make a rare appearance at the Fullerton Museum Center with Michael Stern and Alan Hess. Learn about the work Julius Shulman did in Fullerton during the 1950s and 1960s."