An Architectural Tale of Two JCs
Oops. "Community Colleges." Oops. I mean "Colleges."
It was the best of times, it was the worst of times…
A while back we spent some time looking at the architectural monstrosities being foisted on students and bond underwriters (us) at Fullerton Junior College. We noted the crappy fake historical detailing, the blocky bulk of the overbearing McSpanish dinosaurs, and of course we regretted the intellectual confusion that equates fake old with real old and believes building crappy architecture enhances historical buildings.
Here's a reminder of what we were talking about.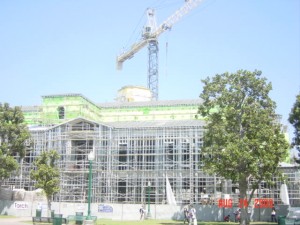 Ye gods! A series of out-of-scale, fake-arched, hollow-walled, Styrofoam-corniced, bulk-squatting godzillas dumped across the campus.
We also lamented the fact that in lower-middlebrow land nobody seemed capable of conceiving the deployment of inventive and engaging contemporary architecture.
In response to a follow up post this fall, a Friend forwarded images of some recent buildings that have gone up at Santa Monica (Junior) College. We share them below.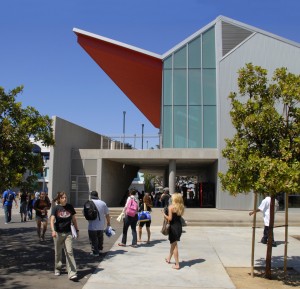 Hmm. Food for thought. Okay, the west side of LA, SM, and Culver City are chock-full of talented architects and designers of the SCI-Arc variety, and north Orange County is chock full of…well, let's let that one go for now.
What's baffling is that there doesn't seem to be anybody on the NOCCCD staff or board with a clue. Instead of doing new buildings that actually stimulate aesthetic interest, they prefer to cough up the dreary, banal, and embarrassing visual tripe of McSpanish. And then threy dredge up support for their travesties from equally clueless citizenry.
Time for a change?