Ackerman Ventriloquism Animates Brain-dead Puppets in Brea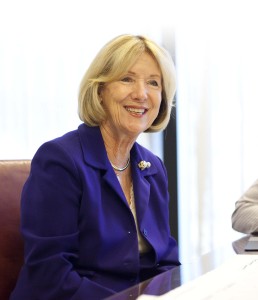 Just as we reported earlier today about Orange, the Linda Ackerman campaign coughed up some more local endorsements, this time in Redevelopment-friendly Brea – where nobody's property is safe from the City – if they want it.
Here are the two money "quotes":
"For over 30 years, Linda has served the people of this community," said Brea Mayor John Beauman. "I support Linda because she is for people, not politics."
Ho, ho, ho! Mr. Beauman who is known as a bit of a dim bulb supports Linda because she is "for people." Evidently he is unaware of her Pacific Policy Research Foundation vacation/lobbyist scam; or that she used her husband's campaign fund as a family cash cow. But Linda is for people. Well, hell! Linda and Dick are "people," right? So everything's kosher.
Then there's this sparkling little jewel:
"I know that Linda will bring a fair, business-minded approach to the state's budget debacle. The taxpayers of Brea need her in Sacramento to fight for fiscal responsibility and limited government," said former Mayor of Brea Bev Perry.

More hilarity! We've already discounted Ackerman's so-called business experience so we can dismiss that; what other tools she has in her shed to tackle the state's "budget debacle" goes unstated by Perry. We're pretty sure by now that Ackerman will be fair – and give all those Sacramento lobbyists their day at the trough. As far as responsibility and limited government go, we can only say that putting those words in Bev Perry's mouth attains a new level of political cynicism – even for the Ackermans. Bev Perry was part of the Brea Redevelopment eminent domain machine that ran roughshod all over property owners in what used to be their downtown. Who's next Lynn "Bulldozer" Daucher?
What a team!