Ackerman Defended, FFFF Attacked (Again) By Ackerman Spokeshole
Yesterday our old playmate Matthew J. Cunningham of the irrepressible boot lick Red County Blog took us to task for passing along the "false" information about his hero Dick Ackerman illegally lobbying for the OC Fair sale. You can read it here, but be forewarned about a likely gag-reflex response. It seems that Cunningham is on a noble mission to promote the Truth, the Whole truth, and Nothing But The Truth. How does he know that Dick's behavior wasn't lobbying? Because Dick said so! Quod erat demonstrandum!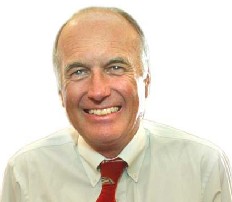 Yeah sure, anything you say, J.
Ackerman has already admitted to "helping" draft the legislation, legislation that somehow managed to jump into AB 22 all by itself? Did Dick go to Sacto? Did Dick make calls to his former colleagues? Naw. That would be illegal lobbying.
Interestingly, our Friend Vern Nelson over at the Orange Juice blog has reported a conversation he had with Assemblyman Jim Silva who opposed the sale. Silva affably relates that there was lots of pressure on him to vote in favor of the sale legislation. Any guesses as to who one of the pressure-appliers was? Not Ackerman, surely – that would be illegal lobbying!
Well, maybe we'll find out soon all about what Ackerman did or didn't do; and Cunningham's lofty life-long goal of pursuing the Truth will bear fruit – although no thanks to him. See, the County Counsel has asked the State AG to look into the whole issue of open meeting law violation, public procurement (Ackerman's "services") violation, and manifest conflict-of-interest charges against Ackerman's employers. Who knows, maybe Dick will be able to explain what he did, or didn't do under oath.
We also note in passing, that according to Scott Moxley at the OC Weekly, Ackerman's law firm has passed the OC Fair "Foundation" hot potato on to Jones Day, the same scumsuckers  Ackerman used to try (unsuccessfully) to intimidate us.