Union Pacific Park to Reopen!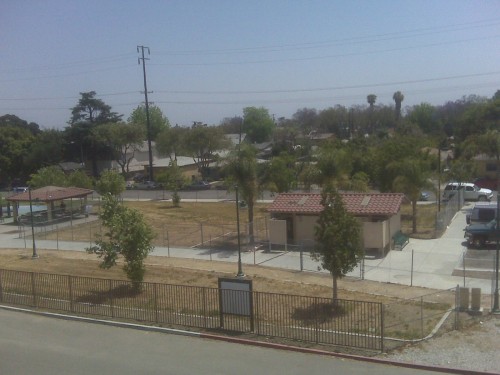 After years of being fenced off by the Parks and Rec. Department, the Fullerton City Council voted to reopen the Union Pacific Park in the 100 W. Block of Truslow Avenue. The park, brainchild of former Parks Director Susan B. A. Hunt, cost several million dollars to be acquired and built in the early 2000s but was almost immediately shut down due to soils contamination. The City failed to perform its due diligence in purchasing polluted property and building a park on it. Adding insult to injury, the park became a magnet for anti-social behavior. So the fence stayed up.
And up. For almost 20 years.
And yet somehow this long-running civic embarrassment became the all-important anchor for the foolish trail project that City staff kept promoting. While the trail screamers were lamenting south Fullerton's park poorness (more on that later) they never bothered to reflect on the City's shameful history of incompetence delivering open space at the UP Park.
Mayor Fred Jung decided enough was enough and at the last City Council meeting suggested that the the fence around the park be removed and the park opened for a neighborhood whose patronizing patrons say is "desperately needed." Well, good. More open space for the community to desperately enjoy while the UP Park ad hoc Committee, the same committee that was ignored during the trail propaganda saga, can figure out what its future is. Councilmen Nick Dunlap and Bruce Whitaker agreed and the motion was approved 3-2.
It will be interesting to see if Ahmad Zahra will give up on keeping this park fenced off. Remember, he was the one who desperately wanted to illegally rent it out as a private, fenced and gated events center. And remember too, that to him, even to question park maintenance costs in his district is "offensive."