Track the Tracks. They Said What?
I've been relating the newest bit of Fullerton nonsense lately, to wit: the unfolding, bureaucrat driven, unfolding the disaster now know by the funny name The Tracks at Fullerton Station.
So far, we've found out that the 141 unit density of the apartment half of this hermaphroditic monster was based on the entire site size, despite the fact that that the "boutique" hotel, all 118 units, sits majestically on the other half. In essence, the Transportation Center Specific Plan limit of 60 units an acre – which is already ungodly dense – has been multiplied by two-and-a-half times, and the environmental documents that have already been approved by the City Council neglect to address this incompatibility with existing governmental strictures.
But it gets even worse.
It's axiomatic that government minions will invariably cough up "solutions" to non-existent problems. It's called job security, and the results, as these pages have amply demonstrated over the years, are never subjected to the embarrassment of scrutiny and accountability. This concept is not different.
At the recent Planning Commission hearing we learned that the project in question involves the complete remodel of the existing parking area just north of the Santa Fe Depot, south of Santa Fe Avenue. This further elimination of parking is being proposed to accommodate a brand new bust lane and stop. Why? No intelligent reason was forthcoming. Here's the site plan:
The existing OCTA bus stops and canopies are only a couple hundred feet away. Is this deemed too far for the scant few travelers who use both bus and train? Of course not. Obviously some "transit" dreamers are hard at work, making work – for themselves.
And now notice at the right of the site plan the proposed hotel juts into the existing Pomona Avenue right-of-way. This will require an abandonment of part of a public street which would require an official abandonment. This is being done to provide outdoor eating for the proposed ground floor café. In order to provide an alternative, our thoughtful staff floated the idea of non-permanent elements in the same area, only requiring the issuance of an encroachment permit. Here's the architect's vision looking south along Pomona Avenue: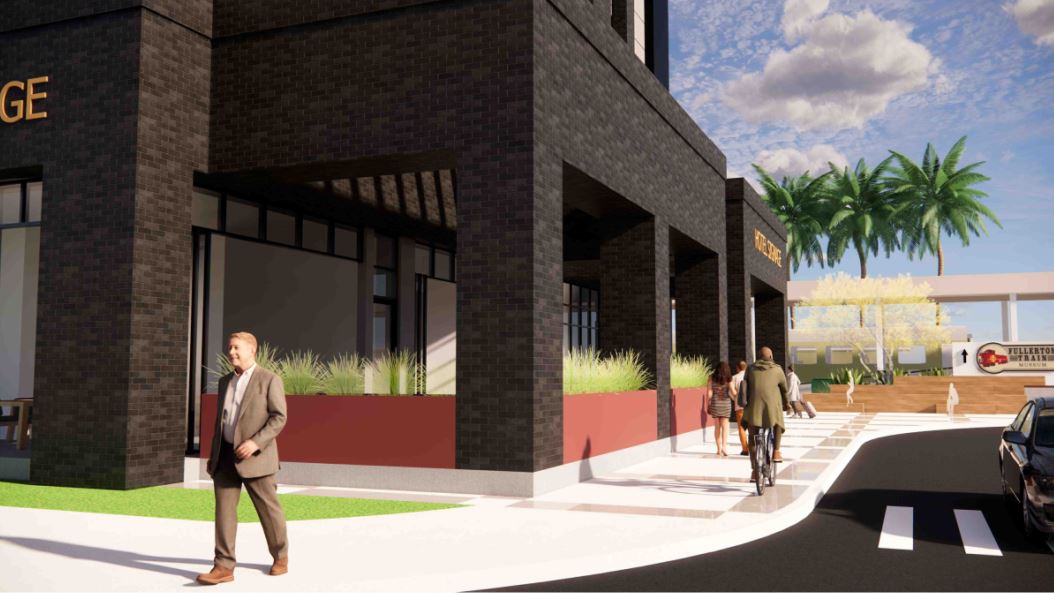 This wet, hot mess was all approved by the five gourds sitting on the Planning Commission dais. Soon it will make its way to the City Council. Will it pass, as the sale of the property did in December? Will the three who voted to virtually give away this useful public land – Whitaker, Charles and Zahra – vote to double down on their foolishness and approve the monstrosity, the unnecessary bus stop and the abandonment?
My educated guess is they will do it cheerfully.