Paulette Marshall Lands in Box
Although the thought of discovering Paulette Marshall in your mailbox might seem a little unsettling, worry not. For it is only her campaign propaganda. A vigilant Friend forwarded the piece in question.
This is so funny because everybody in Fullerton knows that Ms. Paulette has never "led" anything. She is the consummate joiner, padding her service resume with memberships in this or that group started and carried on by others. She tried to be a leader in Fullerton by faking an address in a district that she didn't live in. She insinuated herself into all sorts of photo-ops where she didn't belong, courtesy of her equally creepy spouse Doug "Bud" Chaffee.
Paulette attacks the guy who beat her like a drum the last time around, Tim Shaw, who was made to resign from the OC Board of Education to avoid a costly lawsuit brought by a Chaffee surrogate and undoubtedly paid for by the Chaffee Crime family. Shaw didn't resign in shame and no doubt feels none. Sort of like how Paulette doesn't feel any shame as a caught and convicted criminal.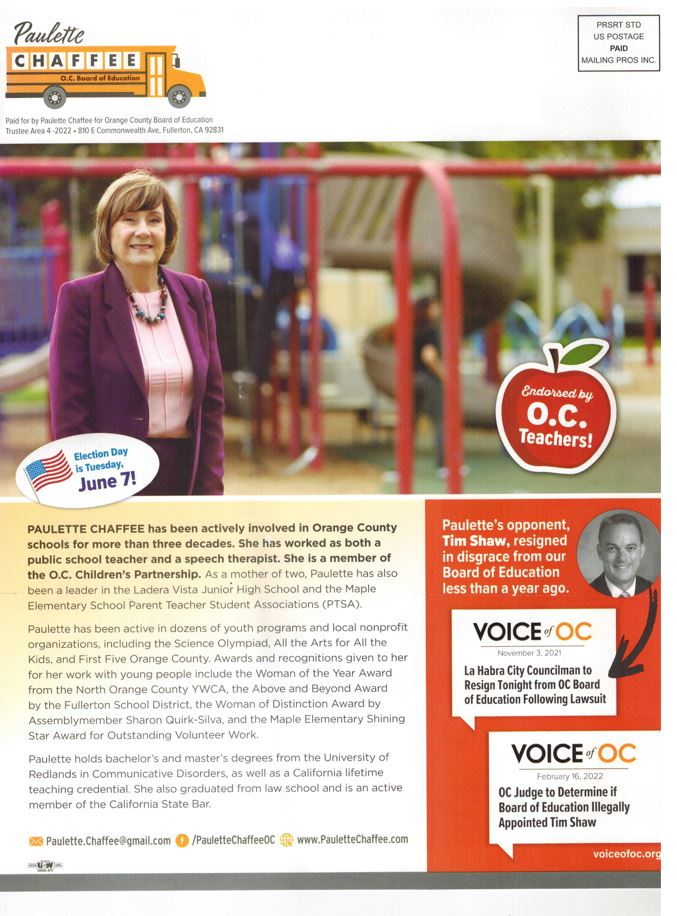 We see that Paulette is "endorsed by OC teachers" although she doesn't care to inform us which ones those might be. Another posed picture shows Paulette engaging exited youngsters, but I really have to wonder if this picture wasn't staged during her mandatory community service following her guilty plea bargain.
And finally, Paulette shares more staged images that only a fool would mistake for genuine support or personal experience.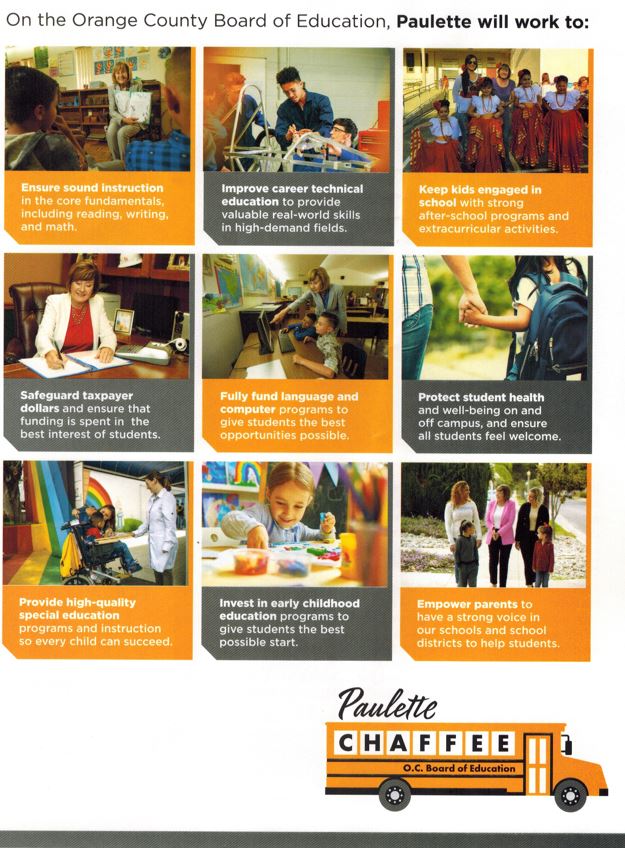 As my uncle Cas always said, no matter how you slice it it's still baloney. So here's the image by which we will always remember Paulette – caught in the act of committing a crime.