Will Fullerton's Pensions Eat the Library and More?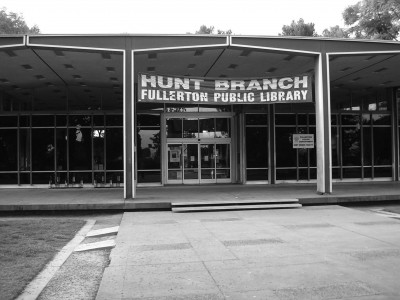 You think we're full of it when we warn you about the severity of the pension problem in Fullerton (and elsewhere). You think we're joking about the pension crisis that threatens to eat our city budget whole.
You ignore when Fitzgerald laughs off structural deficits and joins our council in voting for every pay/benefits package our heroes demand.
Well it is a crisis. A crisis of math and a crisis of ethics.
How bad is it?
It's so bad our City Manager is actively considering giving away property we can't readily sell to pay what we owe on the pensions.
Here's an except from an email forwarded by CM Ken Domer to now-former Administrative Services Director Michael B. O'Kelly, CPA asking for his feedback (emphasis added):
I wanted to share information about fairly new alternative funding concept in public pension – funding using "assets-in-kind".
Followed by:
The concept of using assets-in-kind for pension and OPEB funding is currently being considered by the State of CT. Attached is one of the presentations made during the hearings of the CT Pension Sustainability Commission that explains the approach (PDF document). I thought it may be interesting for you to review. Of course, the approach is not specifically designed for the states, but can be implemented by the local government as well.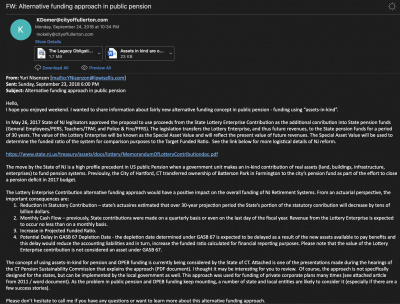 Essentially, the pension fund is ready to foreclose on Fullerton.
First we'll lose worthless assets like the poisoned park, the bridge & stairs to nowhere, some undeveloped land. Then council will vote for some more hero benefits and CalPERS will change the discount rate again and we'll move on the hunt branch library, the main branch library, the community center, Hillcrest and so forth. At some point we'll sell City Hall and Council Chambers to the pension fund which would be fitting considering the heroes and their pensions already own our council and staff.
We'll do all of this because, according to our council majority the budget is balanced.
And because we're in excellent financial shape.