Another Dirty Dick Jones Caper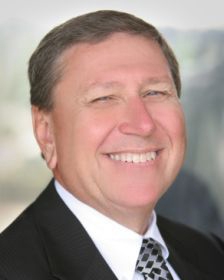 Most of you, dear Friends, probably only know Fullerton City Attorney Dick Jones as the marblemouthed, incompetent, prevaricating boob whose own failure to protect City secrets has led to a city-attempted crack down on the First Amendment. You may recall he was also the stooge who sanctioned the illegal water tax in Fullerton for years.
But Mr. Jones's manifest talents for acrobatics along the tightrope of ethics are well-known across the county.
Norberto Santana at The Voice of OC previously documented how Jones, in his capacity as City Attorney for Westminster, was permitted to pretend to be a city employee able to participate in the CalPERS pension system, a maneuver that required him (or his agents) to falsify time cards for years – a clearly fraudulent activity.
Today, Santana is reporting on another scam at which Jones is squatting dead center.
The cities of Brea and La Habra buy much of their water from a "private," non-profit middleman called California Domestic Water Company, an operation that wholsesales water to its municipal customers. The cities get to appoint their own board members to this corporation which has been fighting efforts to make these same members report their financial interests. And guess who is the Chairman of this Board? You guessed it – the ubiquitous Richard Jones, Esq. who also happens to be the City Attorney for La Habra.
So far so semi-benign, right? Except that California Domestic Water has a wholly-owned subsidiary called Cadway. And not surprisingly, the Cadway board is comprised of the exact same members as Cal Domestic. Oh, and, yeah, it just so happens that Cadway is a for-profit venture that also deals in water sales and trades in conjunction with Cal Domestic, and that paid out over $100,000 in five years to former Brea City Manager, and Cadway boardmember, Tim O'Donnell.  It seems that Cadway rewards its operatives with bonuses for increased volume of water sold to its customers – the people of La Habra and Brea – an obvious conflict of interest that landed O'Donnell in hot water with the Fair Political Practices Commission for non-disclosure, and a paltry $500 fine.
Hopefully, The Voice will keep digging into this matter, including digging into what sort of benefits have accrued to our own City Attorney, Dick Jones.