Enough Excuses, this Recall is Newman's Own Fault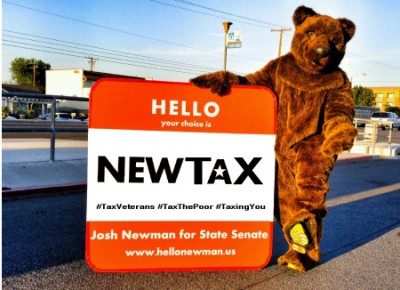 Here's a thought experiment for you.
Let's say you bought a house in Fullerton at the peak of the housing market. The market has mostly recovered but the house is only worth what you originally paid. However, when you receive your tax bill, the Franchise Tax Board assesses it higher, so there is more than a $1,000 difference in what you think you should pay and what you are actually charged. So you send a letter to the Franchise Tax Board disputing the charge and explaining why you believe your bill should be lower.
According to our State Senator Josh Newman, what you just did was costly and unnecessary. You see, that letter disputing the $1000+ charge cost 49 cents to mail, and the letter isn't guaranteed to get you that refund you want.
That's pretty much the takeaway from this recent editorial from Mr. Newman, which ran on Page 2 of our local Fullerton Observer Newspaper. Senator Newman's response to the anger over his vote to raise taxes by over $52 billion over ten years in an already overtaxed state is pure misdirection, asking his supporters to instead ask recall proponents "why they'd waste $2.5 million on a recall petition rather than put 34 more teachers in our schools, 16 more firefighters in our communities, or 13 more cops on our streets."
Of course the answer is really simple: Because $52 billion is more money than $2.5 million. About $51.9975 billion more.
Elsewhere in the editorial, Senator Newman does get around to justifying his vote and that the increased spending on roads was necessary due to the poor condition they are in. Nobody in Fullerton would dispute that, but the reason for the problem is grossly out of whack spending priorities, not a lack of revenue.
Take the examples Newman cites himself. He bemoans the fact that the alleged $2.5 million recall cost could put 13 more cops on our street and not the fact that, by his own admission, putting a single police officer on our streets costs over $192,000 per year in the first place due to the grossly unsustainable public employee benefits we dole out. He bemoans the horrible condition of our roads and not the fact that the 18 cent per gallon tax we already pay has been diverted into the fiscal vortex that is high speed rail – and even when Caltrans does spend money on roads, overpayment and delays have come to be accepted as inevitable.
This is why your constituents are angry, Senator Newman, and this is why they are listening to (as you put it) "shock jocks" and signing the recall petition in droves. We are tired of excuses and we are tired of politicians who choose to represent the interest in Sacramento that want to keep this unsustainable benefit machine chugging along at the taxpayers' expense.
In the event you are reading this yourself, Senator, I don't say any of this with rancor and I still like you personally, but you are working against my interests and those of hundreds of thousands of your constituents in Sacramento and it has to stop. And babbling about millions while your policies are costing tens of billions isn't going to save you.