Behind the Badge: The No-Bid No No and An Email to the Council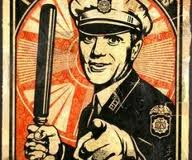 FFFF has tracked the obscene waste of taxpayer money – $200,000 so far – on a vacuous, pro-cop PR outlet run by Cornerstone Communication called "Back the Badge." We have noted a supremely fuzzy contract, approved only by a bureaucrat and managed in the most slip-shod fashion.
On February 2nd, Mr. Travis Kiger sent a communication about it to Mayor Bruce Whitaker. We faithfully reproduce it, here:
Mayor Whitaker,

After reviewing the contract, purchase orders and payments to Cornerstone Communications, along with the communication from the city below, it is clear that the City Manager issued the contract and payments improperly.

City code 2.64.050 and city policy requires a Formal Bid Procedure be followed for awards over $50,000. On 3/28/2013, the City Manager signed a contract with Cornerstone Communications not to exceed $40,000 with no evidence of a Formal Bid Procedure. On 5/20/13, less than 2 months later, the city issued a purchase order extending the contract by 6 months and $23,000. This PO brought the total contract value to $63,000 in the first year. This maneuvering suggests that the City Manager intentionally bypassed the city's requirement for a formal bid procedure.

This issue is even more alarming considering that City Manager and the Chief of Police had an existing relationship with Bill Rams, the proprietor of Cornerstone Communications, prior to the initial contract issuance.

Additionally, there were $32,000 of payments to Cornerstone Communications from 4/1/14 through 11/1/14 that were made without an active contract or purchase order. This is an egregious error that is further complicated by city management's pre-existing relationship with the vendor.

There are other problems with this vendor relationship. Purchase orders were issued in excess of the contracted amounts and term without an updated contract. The contract is open ended, vague and does not provide for specific performance. The contract does not require the vendor to deliver performance reporting, nor is there evidence that the vendor provided evidence of effectiveness of deliverables, which is customary in online marketing agreements.

Given the improper nature of the issuance of the contract, which was renewed over four consecutive years without the approval of the City Council, and the sudden departure of the City Manager who oversaw this contract, I strongly believe the council should review the contract and payments to Cornerstone Communications at a public meeting immediately.

Thank you,

Travis Kiger
Email re Cornerstone Communications
Cornerstone Communications Contract and Invoices
Now let's see what Mr. Whitaker and the City will do with it, if anything.