The Culture of Vodka, Vomit & Vehicular Mayhem (Part One); or Who is Gregg Hanour?
It is often said that nature abhors a vacuum. I think government ineptitude and corruption does, too. For a void created in the latter case attracts all sorts of opportunists looking to get ahead. Just consider the Gennaco affair for a moment: an out-of-control police department and a city government that wanted it to stay that way, called on the "professional" services of Michael Gennaco to make sure nothing was done at all.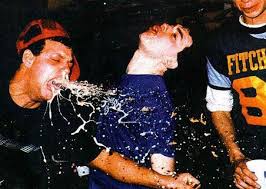 The other day our crack team of investigators discovered that a fellow named Gregg Hanour had made public records requests for police calls to two of downtown Fullerton's fine dining establishments night clubs – Bourbon Street and our old friends at Slidebar Rock 'N Roll Something-or-other. Mr. Hanour is a former bar owner who now makes it his business to explore ways in which bars can quit annoying the municipalities in which they are located, abide by the permits that let them operate, and control their rowdy and inebriated customers, etc. Apparently, one of the main strategies offered by Mr. Hanour is to get bartenders to quit serving alcohol to drunks.
Downtown Fullerton must occupy a bunch of Hanour's business development resources, given the completely out-of-control booze and barf culture that appertains. Good God! Just look at these two rap sheets: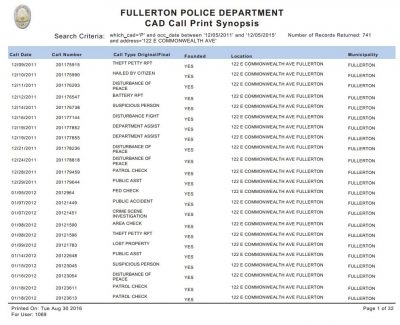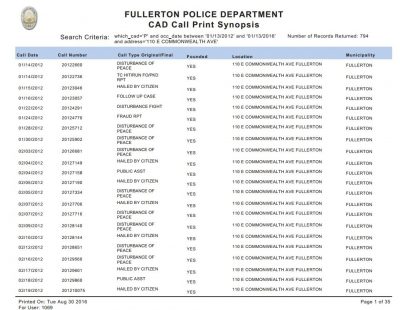 Of course we are all familiar with the Slidebar and its checkered history. What most people in Fullerton don't realize is that Slidebar is currently operating illegally as a night club. That's right. This establishment has no conditional use permit, and every time something untoward goes on there a tremor of fear should pass through the City's Risk Management Department. That's because the City has intentionally looked the other way while Slidebar and it's politically connected owner Jeremy Popoff keep the doors open and the drink flowing.
The real possibility of injury or assault or worse is evident in the long list of police calls to this bar. Can the City be held responsible for the consequences of letting this place run without the necessary permits? I don't know. Shall we ask the City Attorney?