Why Does Dick Ackerman Hate Fullerton?
I want to know why Dick Ackerman hates Fullerton so much. You may wonder at the question, but to me the fact that he does is inescapable.
The Dickster used to live in Fullerton many years ago, and sat on the city council. His claim to fame was excluding Democrat Molly McClanahan from the mayorship year after year.
Subsequently Ackerman has never seemed to want to let go of Fullerton, possibly because he saw the opportunity to ascend the political ladder on our backs. After getting elected to the State Assembly and then the State Senate, Fullerton was ever on his mind. When the Legislature redrew district boundaries in 2001, Ackerman's 33rd Senate District shifted way south, which was convenient for Ackerman who had already moved to Irvine.  And Fullerton made the trip south, too.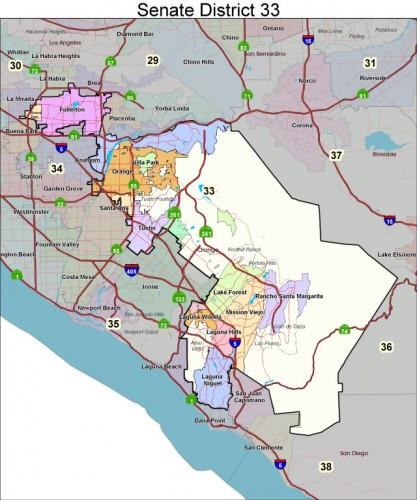 Notice how Fullerton was gerrymandered into a district that extends into south county – virtually to the Pacific Ocean, connected by the thinnest of geographical tendons a few hundred feet wide. It would appear that Dick just couldn't bear to be separated from his pals in the Fullerton Rotary and the long series of political clowns like F. "Dick" Jones that he helped to foist on us.
After a dismal Sacramento career that included self-serving budget deals and courting lobbyists in Hawaii under cover of a fake charity, Ackerman was mercifully termed out. But the Dick was a long way from finished with Fullerton.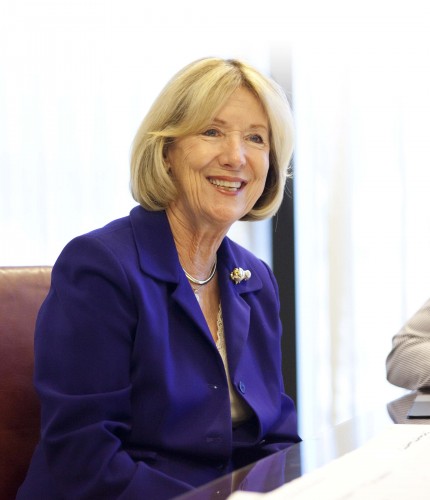 In 2009 an embarrassing opening occurred for the 72nd Assembly District. Not one to let an opportunity for political greasing to pass him by, Ackerman set up his wife Linda to run in a special election to represent Fullerton. Forget for a moment that Linda A was less qualified than a ling cod.
There was a bigger problem: the Ackermans lived in a secret, gated community – in Irvine! No problem for the ethically challenged Dick, who found a compliant stooge in Fullerton willing to pretend the Ackerman lived in his spare room! A rancid collection of repuglicans including Ed Royce, Don Bankhead, Dick Jones, and Pat McKinley, lined up to endorse this cheap fraud.
During this campaign Ackerman even tried legal intimidation against Fullerton citizen bloggers on FFFF. Off course we told him to shove it up is lower alimentary canal.
After the saddest, sleaziest campaign imaginable, the Ackerwoman got her posterior kicked by Chris Norby, and the Ackermans almost immediately re-registered to vote, citing as their address the Irvine mini-mansion they never left.
After this attempted swindle, any man with an iota of shame would have left Fullerton forever, but possessing an iota of shame precludes The Dickster. In 2010 Dick was back meddling in Fullerton politics on the Pat McPension bandwagon. Was it a quid pro quo? Who cares? It was definitely a way to create a solid council majority which could be lobbied hard for his new client – St. Antons Partners – that eyed the huge pile of cash the Three Tree Sloths had lined up for Ackerman.
In August 2011, the lobbyist Ackerman called in his markers and got his client jumped from number eight on the list to the top spot for a hyper-dense, massively subsidized public housing project of the type Ackerman railed against when he was seeking election in Fullerton. What a difference 20 years makes.
Comically, at almost the same time Ackerman was also tagged as a defender for inept and corrupt stasis everywhere as he taught a seminar on how to handle people like the good folks in Fullerton who had finally had enough of their government selling out to special interests like him.
And finally, Ackerman continues to wage war against the people of Fullerton, against competent government, against accountability and responsibility; he protects his investment by organizing to fight the Recall of his Three Dim Dinosaurs.
But Ackerman's ship has sailed. His anti-recall campaign has been an expensive and unmitigated disaster. And when the Recall succeeds, Ackerman will finally be finished in Fullerton. His endorsement will be less than useless and his lobbying for government subsidies will fall on deaf ears. He can spend the rest of his days around the bar, telling anybody who will listen about how important he used to be.