Water Main Breaks In Front of Water Reformer's House
The irony, astonishing.  The coincidence, unnerving.  The big picture, never clearer.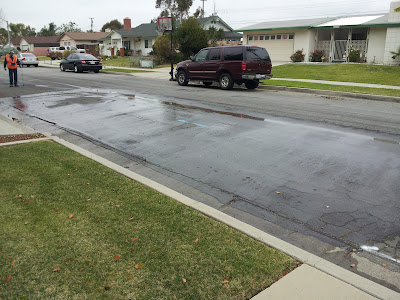 If you could choose a place to break a water line, would this be at the top or bottom of the list? It's in front of my house this morning…again!
This is just around the corner from the house that exploded yesterday and has many questioning the water systems integrity and capability when taxed with fire services. Did the sudden demand on the system place too much stress on the water lines? One would think so but I have not been able to speak with the Water System Manager, Dave Schickling, or the City Engineer, Don Hoppe, to ask.
After you and I have contributed $27-million through the water tax since 1996 to the City's General Fund, you would think the City would have this under control.
A City of Fullerton representative contacted my wife to tell her that, because the leak is slow, they'll be out TOMORROW, on a Saturday, to fix the line. Can you say OVERTIME? Seriously.
If the City was ever going to try to demonstrate water efficiency and commonsense responsible water management, you would think they might want to expedite a water main break. I wonder how many other breaks occurred since yesterday…