This Post Is Not About Jay Cicinelli
Nope. It's a reminder of how a one-eyed cop was hired by the City of Fullerton to patrol our streets with badge, gun, taser and who knows what else.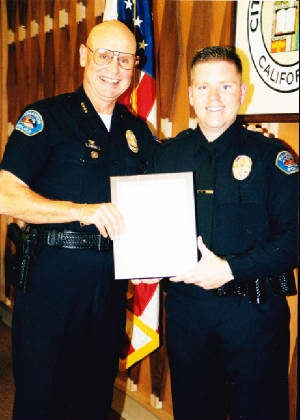 It is now pretty common knowledge that Jay Cicinelli was put on a disability pension by Bernard Parks, Chief of the Los Angeles Police Department following a horrific shooting of the six-week rookie cop. Smart move. Among other injuries, Cicinelli lost his left eye.
But Cicinelli's dream of being a policeman was not to end so quickly. For he had an ally in the figure of Mike Hillman, a gung-ho cop's cop – the type whose worldview divides people into two groups: cops and everybody else;  and Hillman was determined to put the one-eyed cop back on the streets somewhere – anywhere.
Hillman's thoughts turned to little Fullerton, California where his one-time boss in the LAPD, Pat McKinley, had been appointed police chief. And what followed was a decision so incompetent and self-serving that it eclipses all of McKinley's other disastrous personnel decisions – and that's saying a helluva lot.
McKinley hired Cicinelli, gave him a badge, fire arms, and the keys to a patrol car, a decision so reckless and with such blatant disregard for the safety of the public and his own policemen, that he should have been immediately fired.
But he wasn't, of course, and nobody else seemed to care. And Cicinelli remained on the force, a ticking time bomb waiting to go off. And when it finally did, the result was a dead man and a series of huge civil payouts to the man's family. The first payout was for $1,000,000. More are coming.
Meanwhile, the miscreant who hired Cicinelli and all the other thugs, goons. thieves, con men, pickpockets, kidnappers, perjurers, destroyers of evidence, and sex offenders is sitting on our city council, voting on the settlements his employees caused, that will have to be paid by us.