Officer Joe Wolfe Indicted for Involuntary Manslaughter, Excessive Force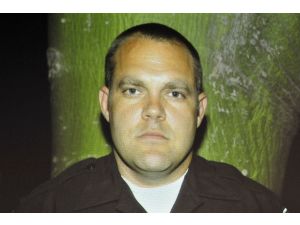 Well, that's former officer Wolfe to you.  Here is the D.A.'s announcement:
THIRD FORMER FULLERTON POLICE OFFICER ARRAIGNED ON INDICTMENT FOR BEATING-DEATH OF 37-YEAR-OLD HOMELESS MAN

SANTA ANA – A third former Fullerton Police Department (FPD) officer was arraigned today after Orange County District Attorney (OCDA) Tony Rackauckas obtained an indictment from the Orange County Grand Jury against him for his criminal participation in the July 2011 beating-death of 37-year-old homeless man Kelly Thomas.

Former Officer Joseph Wolfe was indicted Sept. 24, 2012, on one felony count of involuntary manslaughter and one felony count of the use of excessive force. He faces a maximum sentence of four years in state prison if convicted. Per the statutory bail amount, Wolfe surrendered on $25,000 bail. The defendant is scheduled for a pre-trial hearing Nov. 2, 2012, at 9:00 a.m. in Department C-40, Central Justice Center, Santa Ana.

The first two defendants in this case, then-Officer Manuel Ramos and then-Corporal Jay Cicinelli (see below), were charged Sept. 21, 2011, in Case #11CF2575. Since that time, the OCDA has actively continued its investigation and legal review and decided to seek an indictment against Wolfe following extensive legal and factual analysis and development of evidence.

The Orange County Grand Jury heard testimony from 10 witnesses and examined 113 exhibits of evidence over three days beginning Sept. 19, 2012, before returning an indictment on Sept. 24, 2012.

The law requires that grand jury transcripts, including any evidence or testimony, to be sealed until 10 calendar days have passed from the date of receipt of those transcripts by the defense. Due to this restriction, the OCDA is legally prohibited from discussing any information related to the grand jury proceedings at this time.