Larry Bennett Owes You A Month's Worth of Water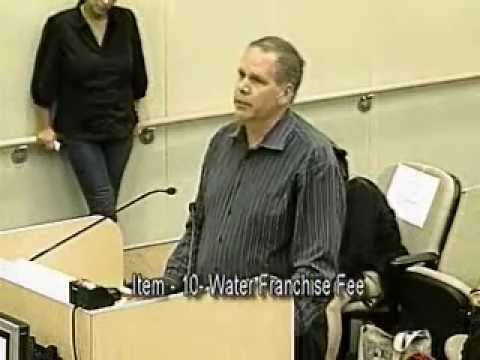 Several months ago Anti-recall lackey Larry Bennett challenged you to find the illegal tax on water on your monthly bill. It was pretty disingenuous even for a slimmer like Larry. FFFF pointed out that the illegal tax wasn't listed on the bill, which of course is one of the reasons it is illegal!
On Tuesday night good ol' Larry all but admitted that there was indeed a 10% tax on your water. Of course he tried to diffuse the ugly truth by saying that 1) he likes paying the tax (could be true – he's a damned fool); and, 2) the tax helps keep his grass green and his flowers happy because he's a water hog (the first part is a falsehood; the second, yes, I believe he likes to waste water). Naturally, he was just parroting the nonsense of his hero Doc HeeHaw who also claimed some part of the 10% went to water delivery – an outright lie.
Anyway, I think that if he had a shred of honor, Bennett would now make good on his promise to pay your monthly water bill. But if you want to ask him you'd better hurry up. Larry will only pay the first person to e-mail him!