Jan Flory Grieves For The Three Deaf Dinosaurs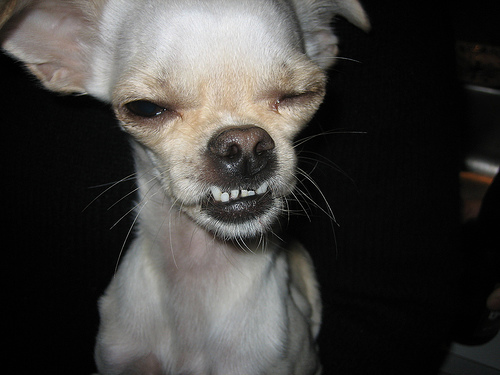 Friends, here's a repeat post by our esteemed JFD from last November. It is even more trenchant now that his former mistress has declared war on the only two really good councilmen Fullerton has had as long as I can remember – and that's a long time.
– The Desert Rat
Whenever my former mistress got into a mood or had a couple too many G&Ts, and picked up that broomstick I always made myself as inconspicuous as possible. Looking down from doggie heaven I can see she hasn't changed much. It's good to know she still has that metal rod firmly stuck in there.
Here she is at the Fullerton City Council meeting during public comments handing out some cooked-up award to Pat McKinley.
Notice how she grieves for Fullerton because of the incivility to her "esteemed" councilmen, Sleepy, Dopey, and Doc (I gotta tell ya she never grieved after whacking my orbital bone with that broomstick, but that's a another story altogether, eye blousing-wise).
Obviously she has set a rather low bar for estimation; if Old Doc HeeHaw can haul himself over it, I guess almost anybody can.
Apparently my former mistress doesn't give much thought to the $350,000 settlement that a hand-picked  McKinley cop cost the taxpayers of Fullerton because he sexually assaulted women in the backseat of his patrol car; or that McKinley thinks that it's okay for a certain kind of woman to be so victimized; and that, according to Big Mac "it's just touching. Not a good thing, but it ain't a dangerous thing;" or that her esteemed councilmen turned over Fullerton to the cops to do with it as they liked – theft, beatings, perjury, false arrest, a killing.
Mrs. Flory somehow got an extra seven minutes to ramble on and on about all sorts of bullshit, whereas others get the microphone shut off after three. Looks like there really is a double standard there.
Anyway, there you have a fine representative of what's left of Fullerton's Old Guard liberals: stubborn, frightened, clueless, self-righteous, dwindling fast.