What Could Be Worse Than a McDonald's in Hillcrest Park?
How about a taxpayer-subsidized McFullerton to compete with non-subsidized local eateries. It's Fullerton. it's Redevelopment. It's not impossible.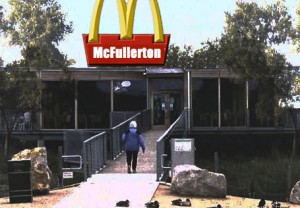 Seriously, could our city council really be contemplating  a commercial restaurant in Hillcrest Park as part of the new Master Plan?
Well, why not? They've shown a total disregard for the park an historic resource over the years; for the Community Services Department Hillcrest Park "revitalization" has merely been an exploitation opportunity over the years, much as Downtown Fullerton has been for the Redevelopment Agency employees. So why not?