Today the Register is reporting that Union officials for the Fullerton-based Teamsters Local 747 are taking heat for wasting hundreds of thousands of dollars of union money on luxurious junkets and personal expenses. Even International Teamsters leader James P. Hoffa called the expenses "excessive."
Amongst other abuses, union officials and employees were exposed for blowing $102,399 at Spadra, an Italian restaurant on Commonwealth in Fullerton (formerly Il Ghiotto, now closed).
Wow, a hundred grand sure will get ya a big pile of spaghetti. I'll bet there was a little booze involved, too.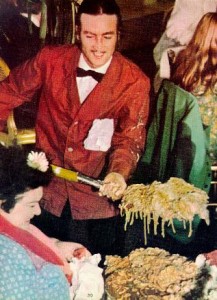 Alright, so this fiasco doesn't involve any public employee unions. But fraud, abuse and excess has plagued the leadership of public and private collective bargaining organizations since the glory days of union thuggery. Maybe this is just just a good reminder to union members: you ought to be checking up to make sure that your glorious leaders aren't living high on the collective supply.