"Things Just Happen." A Window Into The Cicinelli Defense Strategy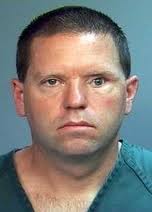 An "aggressive pedestrian?" What?!
Helpfully provided by some locker room lawyer calling himself "John, Jay's Brother."
Acting Chief Hamilton:
I am writing you today regarding the unfortunate but real-life issue, the Kelly Thomas incident, a regrettable part of police work as you well know.  In most cases these things happen with no intent on the parts of the officers to cause any level of harm, let alone have a person die in their hands; things just happen.  We're not talking a Rodney King incident, or the shooting of an unarmed transient as in the Charles Hill case in San Francisco, but a wrestling match with a few blows thrown to subdue an aggressive pedestrian who was stopped for lawful reasons.  In this case, it wasn't the fighting that created the fatality, but positional asphyxia, something common to arrest incidents across the nation.  You've seen the video, as have many leaders in your department, and you cannot argue that these officers went in and beat Thomas to death; your fellow leaders in the department have made their observations and opinions clear.  The facts support all but the first two officers, with the only portion unknown and least defendable found within the first few minutes where they are behind the tree and invisible to the camera.  From the point when Corporal Jay Cicinelli enters the scene, Thomas is pulled into full view of the camera and all are in view the remainder of the incident.
While the death of Thomas is regrettable, the actions of the police department and the city are much more reprehensible, starting with the inadequate chief who said nothing but drifted off into his protected stress leave, and a new city manager who sorely lacked the experience to capture and control this from the onset.  Now, to have it left in the hands of the "unbiased" outside investigator has only exacerbated the problem as he bends to the political pressure brought on by the media and the accusing brothers whom themselves have suspect motives.  You know well what I am talking about.
I am writing on behalf of Jay, though I've looked at Manual Ramos as well and find little fault in him concerning this death.  Two officers do a pedestrian stop based on a call from a local pub.  The stop is legal, as well as their motive to detain and arrest Thomas as a possible suspect for 459 PC, burglary. Thomas fails to comply, and the fight is on, with no less than two broadcasts placed for officers to respond code-3.  With one officer out of shape, the fight is limited before Ramos spent his energy, and the second who remains on top of the subject is hurt.  The third officer on scene knows nothing but that his partners are in a fight, need help, and experiences them exhausted, hot, sweaty, and breathless, in a struggle with a bare-chested suspect.  He deploys the stun gun, dry first, and with the barbs second, but each having no effect.  In-fact, the only result seems to come with an officer receiving the shocking transfer of the jolt through Thomas' body, into that of Officer Hampton.  What comes next is basic police work: A few knees by Officer Joseph Wolfe, as well as some punching to the face area.  Jay struggles to maintain his stun gun as Kelly attempts to disarm him twice, followed by Jay swinging it around a few times, then a few (between 3 and 5) ineffective swings with the stun gun to hit Thomas and stop his actions. As you know, Jay and Manual are at the lower portion of Thomas' body, not the chest area where the medical problem arose.  After this, there is little that happens until they finally handcuff Thomas, and those who do, not Jay or Manual, leave him handcuffed and hogtied on his chest for several minutes.  Do I have to point out to professionals that people die from this alone every year in the hands of police officers?  So how then, do they so adamantly point the finger at Jay and Manual?  I know why: political pressure.
I find it hard to believe that people, from "Chief" Sellers, to the city manager, to the politicians sitting on the city council, don't have the wherewithal to stand up for the truth, and defend your officers who have sworn to keep and oath that threatens their lives every day.  What I see is a series of cowardly decisions, made by people who are unwilling to do what is right, and defend these officers who were involved in a very unfortunate incident, and have been given up at Ron Thomas' request, as "sacrificial lambs" if I remember the quote correctly.  I believe strongly that everyone from the OC District Attorney to the politicians and their appointed investigator are getting this off their Teflon desks as fast as they can conceivably do, disregarding the low lying fruit within your department, because to them, this is a trivial matter and not worth the time to do the right thing.  I believe that they are responding to the media when they assert that Jay has "mental issues" resulting from his LAPD shooting that caused the loss of his left eye.  I understand that former Chief McKinley has already stated that in the media, that he wasn't sure why Jay did these things, and that he was given the psychological evaluation before being hired, indicating that he buys into the mental status.  From my records, my arbitral experience, and my legal experience with the EEOC, this would be called discrimination based on disabilities under ADA.  Furthermore, the manner by which the city is treating these two officers is significantly different than their fellow officers who faced and currently face criminal charges, some of which are strong felonies, not wobblers.  This is accurately described as disparate treatment, another cause of action that I strongly suggest be brought forward by these employees against not only the city, but those who are making the decision to suspend them without pay, thereby adversely impacting the lives of both officers and their families. And though they may deny these assertions, claiming some sort of sovereign immunity based upon their government status, the city, your agency and each person making such decisions are not immune from suits filed under the ADA, and are therefore subject to compensatory, special, future, and punitive damages. Finally, as it comes to the seven tests of just cause, the action taken to suspend these officers comes unfounded based on the lack of a full and complete, unbiased investigation, and the assertion of "rule violations" is most apparently contrived for the purposes of eliminating a political animal that rests heavily on the backs of every person listed above.
I pray that you will step in the gap for these officers, to make decisions that are not based on politics or public opinion, but on facts.  And, if the facts are not there to support such negative actions, I strongly urge you to state this to those who are pushing you to make adverse decisions regarding these men and their families.  There have been many men throughout history who have changed their course of direction for the right reasons, and have faced scrutiny for doing so.  To change course in this case is the right decision, as you know deep down in your heart, and one that will come at a price.  Is your future career at a heavily scrutinized department worth the futures of these officers and their families?  Please understand that if the leaders above you, who push to get rid of these officers without proof, but based on the ugly pressures of public opinion, do not change their course of action against these officers, each action and decision will not go unanswered, and the legal and political issues they face now will only be exacerbated when these officers are cleared of their charges in court when their day comes.
Sincerely,
John
Jay's Brother