Some creatures in Nature's realm need to mass produce their potential offspring. It's a numbers game. Sea turtles lay thousands upon thousands of eggs in desperate hope that at least a few will return to the sea and grow up to be happy sea turtles.
In politics, the act of desperation is reflected in blind mailings to all voters in the vain hope that a few voters will respond. Yes, it sure is desperate. In the reptilian campaign to save the scaly hides of the Three Dithering Dinosaurs desperation has set in, all right. You might call it a last gasp.
Here's a very expensive mailer they just sent out to everybody, anybody, trying to get folks to rescind their signature on the pro-recall petition. But they have zero idea who has signed the petitions. Talk about desperation! Just to show how inept the Three Sluggish Sloths' handlers are, they even sent one to – Tony Bushala!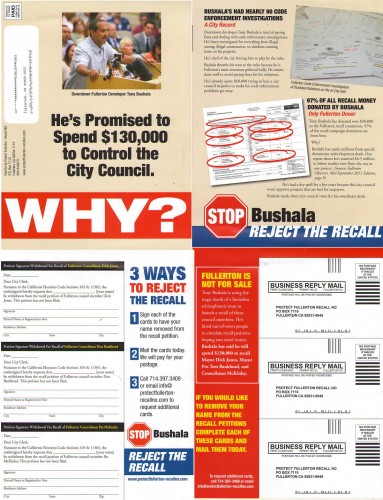 If you happen to get one of these in the mail you can do the Recall a favor. Write in: Go Screw Yourself, Ackerman, and mail it in. See, Pat McPension, the kook who hired all those crooked Fullerton cops, and who makes almost $20,000 a month in retirement, has to pay for the postage!
Recall Reply Mail Contest!
Show the anti-recall committee your creative writing skills by scratching something fun onto their reply cards. Take a picture, upload it to www.tinypic.com and post it in the comments before you mail it away!