A while back one of our fans suggested we'd get sued by the City for use of the City seal. (we didn't). And that go me thinking about the seal itself. So let's talk about it.
"Designed by artist Tom Van Sant in 1962, the figures shown in the seal are stylized depictions of the qualities important to the City of Fullerton. The orange tree refers to the City's agricultural beginnings; the man, woman and child represent families; and the open book represents the City's commitment to providing education and cultural opportunities to its citizens."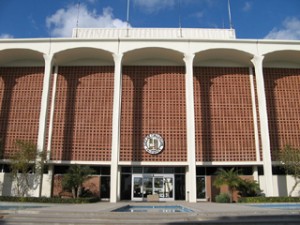 It's a real, stylized period piece, alright. Just like the building it adorns. Like it? Hate it? Don't give a damn?